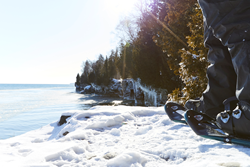 DOOR COUNTY, Wis. (PRWEB) November 30, 2018
Lights twinkle, friends gather, and life is enjoyed at a slower pace. Make Wisconsin's peninsula the destination for the holiday season.
December Events

Enjoy Christmas traditions at Ephraim's Christmas in the Village and Baileys Harbor's Harbor Holiday, Saturday December 1.
Feast on a gourmet meal with The White Gull Inn and Thorp House Inn's Progressive Holiday dinner weekends, November 30 & December 1, December 7 & 8, 14 & 15, and January 4 & 5.
Purchase Christmas gifts and sample treats at Carlsville's Christmas Open House, Thursday December 6.
Embrace the natural beauty of Christmas at The Ridge's Natural Christmas, Saturday December 8.
Taste Door County's Scandinavian heritage at Al Johnson's Traditional Swedish Julbord, Friday and Saturday December 7-8.
Bid adieu to 2018 at the New Year's Celebration and Cherry Drop in Sister Bay, Monday December 31.
For the most comprehensive list of events, visit http://www.DoorCounty.com/events.
Did you know?
Door County has 250 miles of snowmobile trails.
On-Going Winter Activities
Door County Trolley – Sip on wine and cozy in on a sleigh ride on a Winter Wonderland Tour.
Crossroads at Big Creek – Ski or snowshoe on select weekends at no-charge with their Ski for Free program.
Tannenbaum Holiday Shop- Find the perfect Door County ornament for the Christmas tree.
Sister Bay Holiday Lights – Stroll through twinkling holiday lights in the evening.
Baileys Harbor Winter Farm Market – Purchase local goods at this Sunday morning farm market.
Live Music – Listen to local musicians at various pubs and taverns across the peninsula.
Can't Miss Arts & Culture Event
Northern Sky Theater hosts Home for the Holidays at the Old Gibraltar Town Hall, December 28-31.
Door County is located in the northeast corner of Wisconsin. Surrounded by Lake Michigan, it is one of the top leisure travel destinations in America. Door County features 300 miles of shoreline, 34 named islands, 11 lighthouses and 5 state parks. It is known for its natural beauty, artistic offerings, outdoor recreation and local cuisine and offers scenic seaside experiences in the heart of the Midwest.