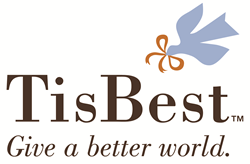 Providing opportunities for young people to focus on gratitude is a wonderful way to introduce them to the importance and impact of giving.
Seattle, Wash. (PRWEB) November 12, 2014
TisBest Philanthropy has teamed up with #GivingTuesday and 92nd Street Y to create a Gratitude Toolkit for students and families, available on the #GivingTuesday website. This week's Toolkit feature is a Gratitude Diary project.
"The Gratitude Diary project is a wonderful way to kick off the season of giving and thanks," says TisBest Director of Programs Karli Anne Christiansen, author of the Gratitude Diary guides. "This research-based classroom activity helps students explore areas in their lives where they may be fortunate, but perhaps may take for granted. By journaling their thoughts and feelings about gratitude students will begin to experience the health benefits researchers have determined to be associated with generosity, such as stronger relationships and better physical and mental well-being."
Teachers can download the free PDF Gratitude Diary templates on the #GivingTuesday website. The downloads include:

Grades K-3: One-page teaching guide and 21 prompts asking students to illustrate a feeling, person, item or experience. Each prompt includes a fill-in-the-blank statement designed to deepen the student's experience of gratitude, such as "When someone helps me I feel (blank)."
Grades 4-8: One-page teaching guide and 21 writing prompts. Each prompt encourages students to briefly explore subjects that kindle or examine feelings of generosity.
Grades 9-12: One-page teaching guide and one-page student guide. The guides provide instruction for using the shareable online gratitude journal at Thnx4.org, which was developed by gratitude researchers at UC Berkeley's Greater Good Science Center.
"We are thrilled to see organizations like TisBest thinking so creatively about how to share the spirit of #GivingTuesday with the next generation," says Asha Curran, director of 92Y's Center for Innovation and Social Impact. "Providing opportunities for young people to focus on gratitude is a wonderful way to introduce them to the importance and impact of giving."
The #GivingTuesday Gratitude Toolkit is a new resource in #GivingTuesday's Science of Giving Online Resource Center. This project was made possible through the support of a grant from the John Templeton Foundation. TisBest and #GivingTuesday will release additional resources leading up to this year's #GivingTuesday, Dec. 2, 2014 (the first Tuesday after Thanksgiving), including a classroom penny project, gratitude essay contest, and more.
More classroom resources to teach children and students about philanthropy:

About TisBest Philanthropy:
TisBest Philanthropy is a 501(c)(3) nonprofit organization dedicated to fostering the growth of non-material gift-giving. TisBest created charity gift cards in 2007. Charity gift cards work like conventional gift cards, but with one important exception: the recipient of a charity gift card "spends" it by choosing a charity to receive the funds.
With a TisBest Charity Gift Card, you make the donation and your recipient decides how to spend the donation, choosing from TisBest's 300+ charity partners. TisBest cards are customizable at no additional cost, and have become increasingly popular as consumer and business gifts. Learn more at http://www.tisbest.org.
About #GivingTuesday:
#GivingTuesday, December 2, 2014, follows the widely recognized shopping events Black Friday and Cyber Monday, kicking off the holiday giving season with a global day dedicated to charitable giving, harnessing the power of social media and the generosity of people around the world to bring about real change in their communities. Now in its third year, #GivingTuesday is a worldwide movement that celebrates the power of giving in all its forms, harnessing the collective power of nonprofits and businesses, large and small, as well as families and individuals to transform how people think about, talk about and participate in the giving season. #GivingTuesday inspires people to take collaborative action to improve their local communities, give back in better, smarter ways to the charities and causes they celebrate and help create a better world. #GivingTuesday was founded by 92nd Street Y in 2012 and is spearheaded in tandem with the United Nations Foundation, and more than 16,000 partners around the world. For more information, visit http://www.givingtuesday.org.