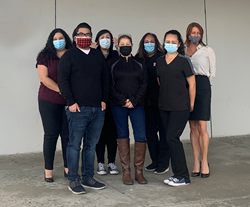 We intend to honor and build on Dr. McMillan's legacy
LOS ANGELES (PRWEB) December 10, 2020
Titanium Healthcare Inc has today announced the acquisition of Your Community Medical Group located in Bell Gardens and Baldwin Park, CA. The purchase ensures that the largely Medicaid population supported by the clinics will receive superior care through the Titanium model.
"Dr. Samuel McMillan was a special person. He dedicated his life to creating a community Primary Care and Obstetrics practice that local people trusted. Beyond that, he and his wife, Nora Cruz McMillan worked tirelessly to support the community with support and facilities beyond medicine." said Titanium CEO, Gray Miller. "We intend to honor and build on Dr. McMillan's legacy by creating an even better primary care model, employing the current staff and augmenting it with tele-health, superior processes and technology, and mission-oriented people."
Titanium Healthcare Inc is a cutting-edge healthcare organization that delivers exceptional care though exceptional care coordination, tele-health and clinical intervention. We currently service major healthcare entities throughout California and Washington and have achieved less than 3% readmission rates and over 99% patient satisfaction. Patients may visit us at any one of our Titanium Healthcare clinics. For more information about our innovative model, please visit the Company's website at http://www.tihealthcare.com.
Contact:
Investor.relations@tihealthcare.com