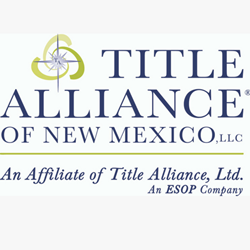 Our mantra is 'work hard. Be nice' and Title Alliance works hard to ensure phenomenal customer service during the closing process and I'm confident this will be a successful partnership.
ALBUQUERQUE, N.M. (PRWEB) August 27, 2018
RE/MAX SELECT has announced its partnership with Title Alliance, Ltd., a RESPA-compliant ESOP leader in joint ventured title insurance agencies, to open Title Alliance of New Mexico. The new title company, located in Nob Hill, is the first and only Title Alliance joint venture in the state. With the addition of Title Alliance of New Mexico, RE/MAX Select can provide superior service throughout the buying/selling transaction to its clients and brokers.
"We are excited to partner with RE/MAX SELECT to open our first location in New Mexico," said Lindsay Smith, Director of Sales and Marketing at Title Alliance. "I'm confident this partnership will enable the RE/MAX SELECT brokers to provide enhanced customer service and an exceptional closing experience for their clients."
Today, RE/MAX SELECT's 37 agents help couples and families across Albuquerque find their dream home. Since opening in 2013, RE/MAX SELECT has handled nearly 1,500 transaction resulting in over $314 million in sales volume. As the organization continues to grow, it plans on opening a third office this fall in the Northeast Heights.
"We are thrilled to open the first Title Alliance office in New Mexico," said Jessica Beecher, Owner and Broker of RE/MAX SELECT. "We are focused on creating an environment where our brokers can succeed and offer sellers and buyers a complete transaction experience."
Title Alliance of New Mexico is located at
109 Wellesley Drive SE
Albuquerque, NM 87106
For more information on RE/MAX Select or for office locations, visit the official website at http://www.abqselecthomes.com.
About Title Alliance:
Title Alliance, Ltd, an ESOP Company is located in Media, PA and has been creating RESPA compliant title joint ventures since 1983 with lenders, mortgage bankers, realtors, builders and credit unions. Their roots date back to 1948 when their first agency, which is still in existence today, was formed. For more information or to find out how a Title Alliance partnership or title management skills could benefit you visit them online or contact Lindsay Smith at 800-220-3901 x 165.
About Re/Max Select
Re/Max Select is a full-service locally owned and operated real estate brokerage firm. Founded in 2013, the company has 37 real estate brokers specializing in residential real estate. For more information, go to ABQselectHomes.com