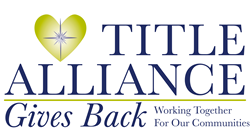 We value our communities that support us, and we feel it's our duty to give back.
MEDIA, Pa. (PRWEB) December 11, 2018
Title Alliance, Ltd, a RESPA-compliant ESOP leader in joint ventured title insurance agencies, announced today the launch of their Title Alliance Gives Back website http://www.tagivesback.com. Title Alliance Gives Back is a community service initiative that consists of every Title Alliance joint venture office across 10 states and 6 regions. The community service includes various collection drives and their annual T.A. Gives Back Week where each employee participates in giving back to their respective communities during a designated week in April.
"We value our communities that support us, and we feel it's our duty to give back," says Jim Campbell, Chief Executive Officer. "Each of our joint ventures get the chance to choose an organization that they love to support, and it's inspiring watching everyone come together for a great cause."
The newly launched website features a variety of organizations throughout the country that have benefited from the efforts of Title Alliance Gives Back. Additionally, there is a gallery of photos from the various community service projects, a news section for the latest updates, and site visitors can even donate to the various collection drives throughout the year by clicking on "Give Back."
"We hit the ground running in 2018 and we are putting ourselves in a position to amplify our efforts and make this a productive community service initiative for years to come," says Lindsay Smith, Director of Sales and Marketing.
The Title Alliance Gives Back Committee currently consists of 11 members who are all Title Alliance employees from various regions. They work together to make sure their community service efforts are productive and purposeful. More information about each committee member can be found in the "Committee" section under the "About" section.
"2018 has been an amazing year," says Brendan Farrell, Title Alliance Gives Back Committee Chair. "We were able to give back across the country, and we learned so much throughout the process. Launching this website is the perfect end to a highly productive first year."
To learn more about the various organizations, and the latest news and updates regarding their community service efforts, please visit the official website at http://www.tagivesback.com.
To donate to TA Gives Back or to contact a representative, please visit http://www.tagivesback.com.
About Title Alliance:
Title Alliance, Ltd, an ESOP Company is located in Media, PA and has been creating RESPA compliant title joint ventures since 1983 with lenders, mortgage bankers, realtors, builders and credit unions. Their roots date back to 1948 when their first agency, which is still in existence today, was formed. For more information or to find out how a Title Alliance partnership or title management skills could benefit you visit them online or contact Lindsay Smith at 800-220-3901 x 165.