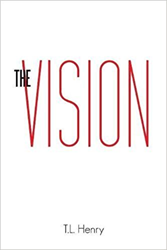 He says, "'The Vision' will encourage all readers because everyone wants to do something to make life better but are unsure how to accomplish this desire."
DETROIT (PRWEB) May 15, 2017
Inspired by real events, T.L. Henry's "The Vision" (published by LifeRich Publishing) is a work of urban fiction that demonstrates how an individual's desire to help others live a productive life develops from challenging circumstances. The novel was written to promote Minding Our Business, a nonprofit organization.
Set in Detroit, the novel follows John, T.C., Michelle and Mr. Jesse. Each character follows a path to discover their purpose – and ultimately realize that fulfilling this purpose benefits the world and everyone in it. Henry notes that the narrative arcs touch upon events that will be familiar to readers who live or have lived in a city landscape.
He says, "'The Vision' will encourage all readers because everyone wants to do something to make life better but are unsure how to accomplish this desire."
An excerpt from "The Vision":
Son, what I've come to understand is that an individual's life goes beyond the obvious point of their existence. I have begun to search deeper in my soul. My spirit is more alive now than ever before. I know now that for every person there is a purpose, most people never find their purpose.
"The Vision"
By T.L. Henry
Hardcover | 6 x 9 in | 412 pages | ISBN 9781489708946
Softcover | 6 x 9 in | 412 pages | ISBN 9781489708939
E-Book | 412 pages | ISBN 9781489708922
Available at Amazon and Barnes & Noble
About the Author
T.L. Henry takes an unsolicited analytical view of the people he meets in time. He currently lives in Detroit. More information is available at: http://www.mindingourbusiness.org.
LifeRich Publishing, the strategic publishing partnership of Reader's Digest and Author Solutions, LLC, was created to provide all writers a platform for sharing their stories, recipes, advice and more. LifeRich authors will benefit from a wealth of editorial design, marketing and education resources, specially created by Reader's Digest editors for the enrichment of these LifeSmart individuals. Books can be published in print, ebook or audio formats, with additional distribution to up to 25 million Reader's Digest customers through its online properties. Follow @LifeRichPub on Twitter or "Like" us at facebook.com/LifeRichPublishing for the latest updates.