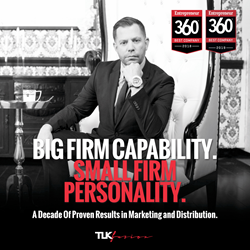 A decade of proven results in marketing and distribution.
VALENCIA, Calif. (PRWEB) November 06, 2019
TLK Fusion, Inc. was recently recognized as one of the "Best Entrepreneurial Companies in America" by Entrepreneur magazine's Entrepreneur360TM List, a premier study delivering the most comprehensive analysis of private companies in America. Based on this study forged by Entrepreneur, TLK Fusion, Inc is recognized as a well-rounded company that has mastered a balance of impact, innovation, growth leadership and value.
"To be recognized by such a prestigious platform fills our organization with great pride", stated CEO and Founder Ken Collis," With the decade of business relationships that our organization has built, our number one priority has always been the growth of our clients as well as their satisfaction. TLK Fusion prides itself on being the marketing solution and extension that can benefit any business."
"Our annual evaluation of vetted data offers a 360-degree analysis of top privately-held companies across a multitude of industries," explains Jason Feifer, editor in chief of Entrepreneur Magazine. "They are deemed successful not only by revenue numbers, but by how well-rounded they are. The companies that make the list have pushed boundaries with their innovative ideas, fostered strong company cultures, impacted their communities for the better, and increased their brand awareness."
TLK Fusion is a leading Los Angeles based pop culture marketing firm. As an established leader in the marketing sector and a decade of innovative business practices that specialize in raising brand awareness, TLK Fusion is sought after for their disruptive marketing methods. With an aggressive 360 degree approach that includes digital marketing, strategic public relations, powerful celebrity alignments, and a history of multi-million dollar introductions into retail, TLK Fusion has harnessed the power of structured marketing to drive growth with businesses of all levels. Founded in 2009 and led by successful entrepreneur, Ken Collis, TLK Fusion has continued to evolve in the ever changing marketing sector to remain ahead and relevant in the industry.
Honorees were identified based on the results from a comprehensive study of independently- owned companies, using a proprietary algorithm and other advanced analytics. The algorithm was built on a balanced scorecard designed to measure five metrics reflecting major pillars of entrepreneurship—innovation, growth, leadership, impact and business valuation.
To learn more about TLK Fusion, Inc, visit http://www.tlkfusion.com.
For additional details on the E360 List and the companies recognized, visit: entrepreneur.com/360.
ABOUT TLK FUSION, INC.
TLK Fusion (http://www.tlkfusion.com), is an innovative, fast-paced, pop culture, Hollywood marketing firm based in Los Angeles, CA. Established in 2009 by successful entrepreneur, Ken Collis, TLK Fusion boasts not only an A List roster of celebrity talent, but also has an aggressive footprint in the Digital Marketing and Distribution in to Retail markets. TLK Fusion's unique out-of-the-box thinking and 360 degree service mix has proven successful throughout the past decade. As the recipient of many accolades and awards that include multiple Best in Biz Awards, The Rolling Stone Magazine Impact Award, the notorious Golden Bridge Award, a coveted Stevie Award, and recently multiple Clutch Awards. TLK Fusion now has proudly accepted the 2019 Entrepreneur 360 Award for the second year in a row.
ABOUT ENTREPRENEUR MEDIA INC.
For 42 years, Entrepreneur Media Inc. has been serving the entrepreneurial community by providing comprehensive coverage of business and personal success through original content and events. Entrepreneur magazine, Entrepreneur.com, GreenEntrepreneur.com and publishing imprint Entrepreneur Press provide solutions, information, inspiration and education read by millions of entrepreneurs and small business owners worldwide.
To learn more, visit entrepreneur.com. Follow us on Twitter or Instagram at @Entrepreneur and like us on Facebook at facebook.com/entmagazine.