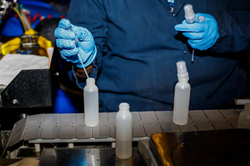 "This crisis has devastated so many small businesses – it's heartbreaking. However, it is so uplifting and inspiring to hear stories from our clients and many other small businesses about uniting, leveraging resources, and doing all that they can to fight this pandemic." - Barbara Morrison, CEO
OAKLAND, Calif. (PRWEB) April 29, 2020
While the coronavirus pandemic continues to cause unprecedented disruption around the world, small businesses are developing creative solutions to aid in relief efforts. Whether it is adding extra employees, donating crucial medical supplies, or discovering how to modify their business model to serve their clients.
Here are three of TMC Financing's small business clients who have adapted their day-to-day operations in order to enhance COVID-19 relief efforts within their local communities.
Bryn Walker
Bryn Walker is a women's clothing retailer that manufactures luxurious fabrics and sophisticated designs. Through the SBA 504 Program, owner Bryan Walker purchased his retail property in Berkeley, CA in 2011. With the Bay Area as his home base, Bryan continued to gain an enthusiastic following because his designs are versatile and practical.
However, as a result of the recent shortage of personal protective equipment (PPE) for health care workers, Bryan's company shifted gears. Bryn Walker teamed up with a new non-profit called "It Takes a Village" to sew 50,000 fabric face masks and construct 5,000 face shields — all to be donated to local hospitals.
It Takes a Village Founder Shelly Wong stated, "Bryn Walker has been crucial in supporting the non-profit by donating fabric, elastic, and all the materials needed to help the effort. We are one of the groups that can provide volume with the help of Bryn Walker's professional sewists."
It Takes A Village has set up a GoFundMe to help reach their goals and is actively seeking volunteers. This group has already donated and received requests from the following hospitals, Alameda Health Systems (requested 8,000 face masks), Zuckerberg SF General (requested 10,000 face masks), Alta Bates Berkeley (requested 1,000 face masks), Santa Clara Valley County Medical, Palo Alto VA, Laguna Honda, Chinese Hospital SF, Sutter Health San Francisco, Mission Neighborhood Health Center, San Francisco.
TMC Financing is grateful to have worked with Bryan Walker and we are proud that he was able to pivot his companies' operations to aid in the fight against this pandemic.
EO Products
EO Products is a certified organic manufacturer of personal care products and cosmetics based in San Rafael, CA. For 24 years, EO has blended items such as essential oils and soaps with safe and natural ingredients.
As the number of coronavirus cases soared across the United States, sanitizer and soap became difficult and often impossible to acquire. In response to the high demand, EO products sprang into action to help protect their community.
EO repurposed their entire production line to focus on hand sanitizer and cleaning products. Additional employees were hired in the warehouse, while the support staff learned to work from home. Normally, 7 production lines run in the company's warehouse. Now, 5 of those 7 are solely focused on sanitizer and soap. During a four-week period ending on Feb. 22 executives reported a 73% jump in sanitizer sales — EO is now manufacturing 1 million hand sanitizer products a month.
TMC is proud to have worked with a company resourceful enough to adapt to not only ensure the safety of its customers, but also thoughtful enough to provide emotional support to its patrons.
In a social media post, EO compassionately wrote, "Through all this chaos, this might be one of the only things we know for sure. That we must take care of each other. We must stay home for one another.
"Another week has passed. It feels like at every moment things are shifting. You've seen it, felt it. Your worlds have been turned upside down, like ours. We're taking a moment to pause, to reflect on our single mission right now as a business — to show up for the people who need us the most and to continue showing up for you where you've come to expect us.
"This week we've made a concerted effort to show up for our first responders, providing 8,000 bottles of sanitizer to the Emergency Response Center at the Moscone Center. We've been sending product as we can to the UCSF Emergency Room and have also equipped our local police station in the Inner Richmond neighborhood. We're currently partnering with national organizations helping us get product into the hands of people who need them most - those that don't have the option to stay home.
"Through all of this, our commitment stays the same: We are continuing to experience unprecedented product demand and order volumes. As new inventory becomes available, it sells out in minutes. In the coming weeks, we'll be rolling out solutions to better service the thousands of customers on our waitlist including offering pre-sale options.
"So, we'll leave you with this. A reminder to pause and breathe. A reminder that there are better things to come. A reminder that you're not alone and we're in this together."
Sol-Pak
Sol-Pak is a family-owned manufacturer of clear, plastic containers for the food service industry. TMC Financing has helped this family secure multiple SBA 504 loans to purchase real estate to house their operations.
Joubin Soleimani, Sol-Pak's Chief Financial Officer, inadvertently realized that he has a unique opportunity to support local businesses throughout this difficult time.
Joubin and his wife learned about a food bank that was struggling to serve their clients because of the social distancing requirements. The food bank had enough food to donate but not enough containers to distribute meals.
"When I heard the story on the news, I thought to myself, this is terrible," Joubin explained. "I immediately had an idea, we could donate the containers to this food bank. Heck — this is what we do. It's simple."
Joubin called the food bank directly and offered his company's services free of charge.
"The food bank picked up my call right away," said Joubin. "I explained to them that this was a gift. They were so appreciative. The process was easy. The very next morning, their trucks were parked at my warehouse and my staff loaded them with 5,000 containers."
By donating 5,000 containers, the food bank had enough to distribute meals to the community for an entire month.
"I am thankful that we could help our community," said Joubin. "I typically fly under the radar, work hard in the background, but I couldn't stay quiet this time. Manufacturing plastic containers is what my family has done for generations. Our goal is to continue to donate to the businesses that need help — we are happy to do it."
TMC Financing is proud of our clients who have evolved and gone above and beyond to assist in this time of crisis.
"I've had the privilege of helping passionate entrepreneurs grow their businesses and serve their communities for nearly 40 years," Barbara Morrison, President of TMC Financing, explains. "This crisis has devastated so many small businesses — it's heartbreaking. However, it is so uplifting and inspiring to hear stories from our clients and many other small businesses about uniting, leveraging resources, and doing all that they can to fight this pandemic."