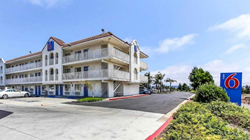 "The 7a loan has variable rate which is not ideal in a rising interest rate market," states Bhanot. "Fixed monthly payments were important to me, which is why I was set on the 504 loan program."
WATSONVILLE, Calif . (PRWEB) January 10, 2023
Starting or expanding a hotel business is a huge undertaking – and securing financing is a large part of it. Luckily for U.S. based hoteliers, the Small Business Administration's (SBA) 504 Program is accessible and the most affordable way to finance hotel acquisition or construction.
The SBA 504 Program offers below-market, fixed interest rates to purchase, construct, or refinance hotels. Equity injection is as low is 15 percent.
TMC Financing, the No. 1 SBA 504 hotel lender in the nation, provided 22 hotel owners with $70,000,000 in SBA funds to purchase, construct, or refinance their hospitality facility in fiscal year 2022. One of those hoteliers is Sanjeev Bhanot, a 30+ year veteran in the hotel industry.
TMC Financing provided financing to Bhanot to purchase a 124-room Motel 6 located at 125 Silver Leaf Drive in Watsonville, CA. By utilizing the SBA 504 Program, Bhanot only needed to put down 15 percent of the total project cost of $11,900,000, which includes the purchase of the building and furniture, fixtures, and equipment.
"Financing through the SBA 504 program made the most sense for us," explains Bhanot. "It was the most convenient way to get the funds we needed."
SBA 504 Financing Beats Alternatives
Motel 6 Watsonville is not the first hotel acquisition for Bhanot. He previously purchased a Holiday Inn Express in Simi
Valley with an SBA 7a loan. The SBA 7a loan is also backed by the SBA and offers low down payments. The significant difference between the 504 loan and the 7a loan is that the 504 loan comes with a fixed interest rate for the life of the loan and the 7a loan is variable and unpredictable. The 7a loan also often requires additional collateral.
"The 7a loan has variable rate which is not ideal in a rising interest rate market," states Bhanot. "Fixed monthly payments were important to me, which is why I was set on the 504 loan program."
Bryce Fennell who administered the SBA 504 loan on behalf of TMC Financing stated that this project was ideal for an SBA 504 loan. "Conventional lenders can require a high down payment for hotel financing, often up to 40 percent. With the unique structure of the SBA 504 loan that allows for a low down payment, hoteliers can conserve their working capital and reinvest it into their business"
Unique Structure Allows for Low Down Payment
The SBA 504 loan is a second mortgage loan backed by the SBA. The first mortgage is provided by a conventional lender, representing approximately 50 percent of the total project cost. The SBA 504 second mortgage, representing generally 35 percent of the total project cost for hotels, has a long-term, up to 25 years, and fixed interest rate, fully amortized for the full term of the loan. Monthly payments are fixed for the life of the loan.
"The entire process is streamlined for efficiency," states Bhanot. "My experience was smooth, and I actually enjoyed the whole ride. The structure of the loan not only allowed for a low down payment, but it took headaches away from me. TMC and my bank partnered to solve any hiccups that arose. I was able to be pretty hands off."
Bhanot concludes that he will surely be knocking on TMC Financing's door again when he needs additional financing.
Franchised or independent boutique hotels can qualify for the SBA 504 Program. There is no project maximum, and hoteliers can finance multiple projects. Hoteliers can confirm they meet the qualifications for an SBA 504 loan by contacting one of TMC Financing's SBA 504 loan experts.
About TMC Financing
TMC Financing is a Certified Development Company licensed to operate in Arizona, California, Nevada, and Oregon. Founded in 1981, TMC Financing is the leading provider of SBA 504 commercial real estate loans in the nation, funding projects worth over $12 billion. Over 6,000 businesses have benefited from this financing, resulting in the creation of an estimated 60,000 jobs.