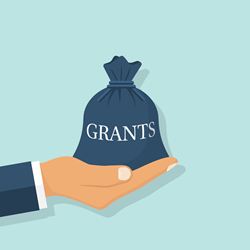 "I felt the pain of the small business owners impacted by the pandemic – it was heartbreaking. One minute, entrepreneurs were fine, the next minute their business were closed, no revenue coming in. We knew that this grant partnership could really help those businesses struggling to recover"
OAKLAND, Calif. (PRWEB) December 02, 2020
TMC Financing, an SBA 504 commercial real estate lender, and TMC Community Capital, its sister organization, a nonprofit fintech, teamed up with the county of San Joaquin to administer their CARES Act-funded small business assistance grant program, supporting community cornerstones on their path toward economic recovery.
The County of San Joaquin's Small Business Assistance Grant Program, in partnership with small business lenders TMC Financing and TMC Community Capital, has awarded over $6.7 million* to over 700 small businesses and non-profits within county limits.
Funded by the federal government's economic relief package, the Coronavirus Aid, Relief, and Economic Securities Act (CARES ACT), the grant program provided immediate financial assistance to establishments in San Joaquin County. Businesses and non-profits impacted by the pandemic were awarded grants of up to $100,000 by San Joaquin County's Small Business Assistance Grant to support unfunded payroll, rent and lease, and personal protective equipment expenses.
Contracted by the county to manage and process applications, TMC staff independently evaluated and processed all grant materials, verifying them for completeness and ensuring compliance with all county terms and conditions. Based on TMC's recommendations, San Joaquin County made the final eligibility determination and issued funds to successful grant applicants.*
Restaurants and other food service establishments were the greatest recipients of the grant program, receiving a combined total of $857,368.99, followed by medical offices, and personal care services. Closely following, hotels and motels, childcare facilities, and retail sectors were greatly assisted by the grant program as well.
"I felt the pain of the small business owners impacted by the pandemic – it was heartbreaking. One minute, entrepreneurs were fine, the next minute their business were closed, no revenue coming in. We knew that this grant partnership could really help those businesses struggling to recover," said Barbara Morrison, President of TMC Financing.
Martial Arts Training School Received $5,000
Tibon's Goju Ryu Fighting Arts, a martial arts training school based in Stockton, was one the businesses assisted by the grant program. The school has served young people in the Central Valley for thirty-eight years at its five locations, instilling discipline, respect, and self-confidence in students through martial arts training. When the pandemic hit, owner Gene Tibon was forced to cancel in-dojo classes for nearly six months. With lessons called off, enrollment dropped significantly, all but vanishing revenue. To adapt, sensei have been teaching classes outdoors and over Zoom, but enrollment has remained low while business expenses have continued to pile up.
"The pandemic has brought unimaginable hardship for small businesses like mine," Tibon says. "This grant has been a godsend." Goju Ryu Fighting Arts received a $5,000 grant, which has helped Tibon pay rent on his facilities and purchase personal protective equipment for teachers and students alike.
Economic relief programs like San Joaquin County's Small Business Assistance Grant have allowed Tibon to maintain operations in uncertain times, providing outdoor lessons and in-person, socially distanced training sessions. TMC is proud to support financial relief efforts at the county level, especially for small businesses at the heart of their communities.
*In addition to TMC, the County partnered with two other third party processors and has approved a total of over $7.7 million in small business assistance grants. Figures cited here reflect only the portion of grants processed by TMC.
About TMC Financing
Founded in 1981, TMC Financing is the No. 1 provider of SBA 504 commercial real estate financing throughout California and Nevada. The certified development (CDC) has provided $10 billion in financing for more than 6,000 businesses. Approximately 60,000 jobs have been created because of this financing.
For more information on the SBA 504 loan or TMC Community Capital's microloan program and the local businesses they support, visit http://www.tmcfinancing.com.