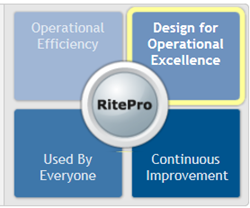 Everything is simpler with RitePro because it's all done electronically. We're always just a couple of clicks away from accessing any information. It's a big time and cost savings. --Dwayne Meyer, Senior Quality Engineer, RitePro
Campbell, California (PRWEB) September 19, 2016
QuadRite today announced that Topcon Medical Laser Systems (TMLS) is using the RitePro™ software to improve quality processes and save time and money. TMLS is the developer of a new technology for the treatment of ocular disease. Their PASCAL® lasers are used to treat a variety of retinal conditions that give physicians more control, which leads to improved outcomes for patients.
Like any medical device company, TMLS must meet stringent regulatory requirements. Prior to 2011, they were using product lifecycle management (PLM) software that did not meet their growing needs. TMLS began searching for a better solution to track engineering processes and regulatory requirements. They quickly discovered QuadRite's RitePro software. RitePro helps medical device companies streamline design control, document control, quality processes and training management to achieve operational excellence while being regulatory compliant.

Simple, comprehensive solution deployed companywide
Since 2012, all employees at TMLS use RitePro for a variety of processes. According to Dwayne Meyer, Senior Quality Engineer, RitePro is a simple and comprehensive program that works well and meets all of their needs. RitePro manages training, documents, work instructions, assembly instructions, quality procedures/processes, schematics, drawings, project planning, service logs, complaints and meeting notes.
For example, whenever a complaint is filed, a medical device company must respond due to regulatory requirements. "Prior to RitePro, this process generated a huge amount of paperwork, and we had trouble keeping track of everything," Meyer explained. "With RitePro, everything is simpler because we don't have to deal with paperwork at all--no filing, no losing papers. It's all done electronically. We're always just a couple of clicks away from accessing any information. It's a big time and cost savings for us."
RitePro saves time and money, improves quality
Meyer estimates that RitePro has cut the time by more than half for dealing with complaints. "We went from it taking us more than 6 months down to about 30 days to deal with a complaint--that's an 80% time-savings. We also cleared away our huge backlog," said Meyer. "The biggest advantage though is that our auditors love it--so much so that they have recommended RitePro to many of the other companies they audit."
Accountability and traceability within TMLS have definitely improved using RitePro. TMLS must keep track of non-conforming reports (NCRs), which are any discrepancies they find during manufacturing of the devices. As materials come in, TMLS inspects them and some parts don't meet inspection criteria; when that happens, they log the information. They also must manage corrective action, preventative action plans (CAPAs), which are improvements to their processes to eliminate these non-conformities.
"Previously, both processes were paper-based, and we were losing approximately ten percent of the paperwork," Meyer explained. "The NCRs and CAPAs were kept in binders, and human error could cause the reports to be misfiled or lost. RitePro has eliminated that problem."
TMLS also appreciates the flexibility of the software. "We are constantly looking for ways to eliminate paper redundancies--to streamline and automate processes," continued Meyer. "RitePro's flexibility allows us to do just that. It has an infinite amount of configurability, allowing us to pretty much do anything we need for any purpose."
Outstanding customer service is also something that TMLS appreciates with QuadRite. "The company is very cooperative. They help us any time we need changes to a module to meet an auditing body criteria. They are very prompt and attentive to your needs. We get personalized service." Meyer concluded.
QuadRite takes pride in the customer support they provide. "We make it a point to understand our customer's business needs and help them get maximum value from our software," explained Deb Mishra QuadRite Founder and CEO. "Our corporate focus is to provide high touch customer support--we walk the hallways of our customers (both literally and figuratively). No matter where they are located, in the Silicon Valley or halfway around the world, our customers receive personalized service. We want them to have easy access to our employees and feel as if we are truly a part of their company helping to make them successful."
Overall, TMLS has seen substantial improvements in time savings and quality control by using RitePro. They estimate it provides them with an 80 percent time savings when dealing with complaints, 20 percent with NCRs and 10 percent on service calls.
When asked his overall impression of the product, John Talarico, Vice President of Regulatory Affairs at TMLS concluded, "It definitely saves us time and provides objective evidence that we have everything under control. And the regulatory people and inspectors absolutely love it. And because they love it, we love it."
About QuadRite, Inc.
QuadRite enables technology and medical device companies to streamline engineering, manufacturing, and quality processes to achieve operational excellence--from product concept and design to planning, production and support. Simple to deploy and easy to use, RitePro™ software is a cost-effective solution that improves collaboration throughout the product lifecycle. Compared to traditional PLM solutions that focus primarily on the activities of the engineering groups, QuadRite packs significantly more features into a single integrated solution, improving all aspects of product development and management. RitePro is a powerful yet simple and affordable alternative that replaces or complements today's traditional PLM solutions.