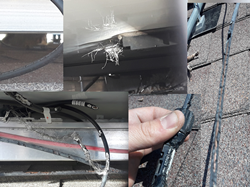 How much of a risk is there for animals to ruin solar panels from underneath?
DENVER (PRWEB) May 13, 2019
Residential rooftop solar panels are installed on a racking system that puts them between 3-4 inches off the surface of your roof. Having an air gap between the panels and the roof top is necessary for the equipment to function properly, for spatial and airflow requirements. But having this gap leaves the perfect amount of space for several types of birds and small rodents to fit. Some nest there, and some like to chew the wires, exposing your solar panels to risk of damage due to these 'critters'.
Some solar panel installers - like EcoMark Solar - install "Critterguard" with every system they sell to actively prevent such problems.
"Solar panels are warrantied for 25 years, but not all warranties are created equal, especially when it comes to damage that could have been prevented, like animal damage" Jake DiRe of EcoMark Solar explains. "We offer a comprehensive warranty, and Critterguard protection with all our installations. The damage that squirrels and pigeons can do to our installations is significant. Since there is a proactive way to eliminate future problems for our customers - and our maintenance teams - we have chosen to make Critterguard standard on all of our installations."
One of the reasons that animals, especially rodents are so attracted to the wiring is the new 'Green' regulation to have electronic wires coated in a soy-based compound, as opposed to a petroleum-based compound. These types of wires act like a food source for them. Cars are experiencing the same type of problem. "Soy-based wire coatings are industry-standard and they need to be protected from animals. We actively protect all our installations," DiRe proclaims proudly.
"When it comes to the long-term purchase of solar panels for your home, you need to work with a company that also has a long-term perspective - one that sees and prevents problems for their customers. EcoMark Solar is just such a company, with our comprehensive warranties and our protective product accessories," DiRe concludes. "We're here for the long haul, and so are our solar panels!"
EcoMark Solar is a Colorado-based solar panel installer, roofer and now battery supplier for the Colorado home-owner market. "We are currently the largest residential solar installer, and soon we will be able to say that about the installation of these eco-friendly batteries too," DiRe forecasts. Their website is EcoMarkSolar.com – and their phone is 720.432.6411.