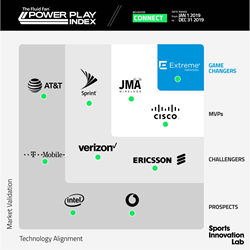 It's imperative for us as sports leaders to stop trusting our guts to get fans back into the stands, and instead, start using data to make these decisions
BOSTON (PRWEB) April 30, 2020
Sports Innovation Lab, the leading market intelligence platform and research provider for the sports industry, today launched the Power Play Index - an innovative and unbiased decision making tool that empowers brands to understand which companies are best positioned to enable the fan behaviors that matters most. Today, that behavior is all around connectivity as it relates to deploying the safety and security technology that is going to be essential to bringing fans back into sports venues.
"Today, it's imperative for us as sports leaders to stop trusting our guts to get fans back into the stands, and instead, start using data to make these decisions," said Angela Ruggiero, Co-Founder and Chief Executive Officer, Sports Innovation Lab. "The Power Play Index is a way to guide sports leaders' key business decisions, and we are launching with a tool to guide the decisions around live sports, giving fans a source of entertainment and inspiration. Now, more than ever before, investing in the right infrastructure and innovation will provide the foundation for our future."
Each Power Play Index has four different categories - Game Changers, MVPs, Challengers, Prospects - where companies fall based on Sports Innovation Lab's proprietary technology that factors in industry validation and alignment with technology. As market dynamics change, the position of each company on the Power Play Index will change as well.
Game Changers - leaders in the market that have potential to significantly alter the future and dominate their market segment
MVPs - companies that have established themselves in a market and are delivering valuable products and services to their customers as it relates to the core behavior
Challengers - companies with products and services that push the status quo, putting pressure on market leaders due to their mass appeal
Prospects - emerging players with products and services that could be established brands or new entrants who have not yet mastered the specific technology that empowers Fluid Fans
"With the launch of the Power Play Index, we will change the way the industry makes decisions when it comes to strategic partnerships and procurement, in an effort to reach today's Fluid Fan," said Josh Walker, Co-Founder and President, Sports Innovation Lab, who leads the company's research arm. "We felt that the industry needed an unbiased ranking system that showcases the companies that are reaching Fluid Fans in the right ways, ultimately setting themselves up for success now and in the future as the Fluid Fan continues to evolve."
The inaugural Power Play Index focuses on the fan behavior of Connect as the in-venue fan experience has been forced to evolve in the wake of the COVID-19 pandemic. Connectivity drives how venues will implement critical technologies to ensure fan safety and confidence - from crowd management to cashless payments to access control and alert systems. Over the past twelve months, Extreme Networks is the Power Play Index's Game Changer due to their WiFi 6 solutions, machine learning connectivity, and validation through property partnerships with BBVA, Gillette Stadium and Mercedes-Benz Stadium.
New Power Play Index findings will be released in a regular cadence throughout the year; each one will examine a different fan behavior featuring the companies that offer the most compelling ways to engage with, entertain, and protect fans. On May 13th Sports Innovation Lab will host a free Ask Me Anything virtual event to present the Index and its methodology. You can sign up and find out more about the Power Play Index at https://www.sportsilab.com/power-play-index
Editor's Notes
**Through Sports Innovation Lab's proprietary technology and scoring system - the top ten companies that score the highest are plotted on the Power Play Index index.
**Companies like Amazon, Google, Apple, etc., are not a part of this index, though they are working on connectivity solutions, but their sports solutions did not fall into the top ten.
**The first PPI examines companies from Jan. 1, 2019 - Dec. 31, 2019.
About Sports Innovation Lab
Sports Innovation Lab is leading a sports research revolution. Sports Innovation Lab exists to educate clients on the technological possibilities for their brand and how to ultimately drive value to the end consumer: the Fluid Fan. They inspire brands to create bold fan experiences through data-driven technology insights and industry-leading research. Visit http://www.sportsilab.com and follow on LinkedIn.