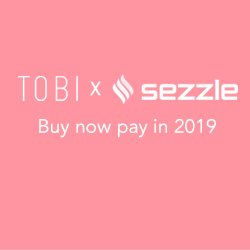 "Tobi's US-based shoppers will love how easy it is to use Sezzle to buy now and pay later throughout the holiday season and beyond." - Kenneth Chan, Tobi CEO
MINNEAPOLIS (PRWEB) November 13, 2018
Sezzle Inc. announced today the rollout of a new partnership with Tobi.com, the e-commerce fast fashion brand with LA roots and global appeal. Sezzle, a leading alternative digital payment platform, offers zero interest installment plans for online purchases. Beginning November 12, 2018, the alternative payment method will be available to Tobi's 1M+ monthly shoppers based in the United States.
To kick off the partnership, Tobi and Sezzle are launching an exclusive "Buy Now, Pay in 2019" campaign aimed at making the holidays a little less stressful on customers' wallets. For all remaining orders this year, Tobi shoppers can choose Sezzle at checkout to delay full payment for their items until after the New Year, at zero percent interest. For purchases made during this time, Sezzle will require a 25% down payment at the time of purchase, and the remaining balance will be automatically scheduled as three equal-installment payments to be paid every two weeks starting on January 2, 2019.
"The holidays can be unforgiving for anyone's budget, creating stress instead of cheer," said Kenneth Chan, Tobi's CEO. "We're thrilled to partner with Sezzle to bring our exclusive holiday campaign to life, which will give our loyal customers peace of mind during this busy time of year. We feel confident that Tobi's US-based shoppers will love how easy it is to use Sezzle to buy now and pay later throughout the holiday season and beyond."
Following the holiday campaign, Sezzle's Buy Now, Pay Later zero interest installment plans will remain available to Tobi shoppers, offering frictionless checkout and the ability to budget purchases over time. Sezzle uses a proprietary underwriting model in place of traditional credit checks when making financing decisions, enabling them to approve approximately 100% more applicants than other consumer financing solutions.
"Tobi has been a great partner for Sezzle," said Sezzle CEO, Charlie Youakim. "We love how their team works creatively with ours to bring new ideas like the "Buy Now, Pay In 2019" campaign to market. It's a perfect demonstration of how we are committed to bringing more value to the merchants we partner with."
Discover more about Tobi x Sezzle's "Buy Now, Pay In 2019" holiday campaign and giveaway by visiting https://www.tobi.com/.
ABOUT SEZZLE
Sezzle is an innovative payment platform whose mission is to financially empower the next generation. Recognized for fintech innovation, and outstanding customer reviews, Sezzle offers a "buy-now, pay-later" service that does not require shoppers to enter into a traditional loan or pay any upfront fees or interest. Sezzle is certified up to PCI DSS Level 1 as a Service Provider.
ABOUT TOBI
Tobi is an e-commerce fast fashion brand with LA roots, yet global appeal. Since 2007, Tobi has brought its accessibly priced, trendsetting looks to millions of babes in over 100 countries worldwide. With design that channels the spirit of Los Angeles, Tobi captures trendy, of-the-minute options that can be styled effortlessly for any occasion. Follow along @ShopTOBI, tag #ShopTOBI, and visit https://www.tobi.com/ to discover more.