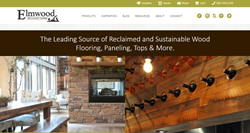 The interactive tools will allow our clients to not only easily find the products they are looking for they will also be able to order samples directly from the product pages they desire. - Brent Kroh, Vice President Sales of Elmwood Reclaimed Timber
PECULIAR, Mo. (PRWEB) October 24, 2019
Today Elmwood Reclaimed Timber, the leader in high quality reclaimed and sustainable wood products, announces the re-launch of its website with fresh new features, responsive design, updated information, and streamlined sample ordering. The new website features full page galleries of both residential and commercial projects that will be sure to inspire. The re-launch also includes an updated product selector to assist customers in navigating to exact product by either collection, species, grade or color. In addition a newly designed inspiration area showcasing over 80 of our past and current clients projects are just some of the highlights and benefits.
"We are extremely excited to have such a great website available to our clients," said Brent Kroh, Vice President Sales of Elmwood Reclaimed Timber. "The interactive tools will allow our clients to not only easily find the products they are looking for they will also be able to order samples directly from the product pages they desire. Reclaimed Wood Products is what we do and we have so much pride in our products and our finished installations. Our new website truly showcases our products in our client's projects to give inspiration to our future customers. We are looking forward to adding even more features and continuing being a leader in the reclaimed wood industry."
For more information contact the Elmwood Reclaimed Timber Sales Department, visit: http://www.elmwoodreclaimedtimber.com or call 800-705-0705.
About Elmwood Reclaimed Timber: Elmwood Reclaimed Timber Inc. manufactures and markets the highest-quality reclaimed wood products, which adhere to standards embracing the company's deep respect for the environment. Every product created by Elmwood, including wide plank flooring, countertops, beams and cabinet lumber, has been made by using wood salvaged from sustainable sources. All antique reclaimed timber is old growth wood harvested from the original, unaltered forests that were standing before settlers arrived. Out of respect for cultural heritage and architectural history, only structures that are condemned, abandoned or beyond repair are deconstructed. All of Elmwood Reclaimed Timbers reclaimed wood products are certified by the Forest Stewardship Council-Recycled accreditation. The recognition adds validity to an already green team.
For more information, call 1-800-705-0705, or visit http://www.elmwoodreclaimedtimber.com.