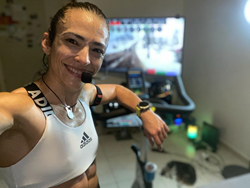 When you bring your facility to operate in the digital space, you open your business to many more potential members
LOS ANGELES (PRWEB) May 20, 2020
Spivi®, an industry leader in digital interactive displays and performance tracking, announced Spivi Home, the world's first service for fitness facilities, gyms and boutique studios to bring home users to ride together with gym members, virtually presented as avatars, in an immersive, animated scenery. Home users can connect using the Spivi Home app, which is launching on Windows and Mac computers and can connect with indoor cycling bikes equipped with ANT+ and BLE sensors. iOS and Android versions of the app will be available in Q3 2020.
Spivi technology collects both in-studio and at-home exercisers' data such as power, cadence, speed, distance, and heart rate directly from the bikes and heart-rate sensors. During the class, home users see their live performance metrics on an app at home, and gym members see it on a display inside the studio. They both are able to take part in visual challenges and fitness tests. Home users can communicate with the instructor through gestures and a live video feed, and use their webcams to be seen by the instructor and others in the class, all in one application, without the use of a 3rd party streaming service.
Fitness facilities and studios can leverage the performance tracking features of Spivi to serve more users while complying with social distancing restrictions and also keeping them safe and engaged in an immersive workout experience. They can now seamlessly add home users to their daily classes.
Shay Amir, Spivi CEO, said: "When you bring your facility to operate in the digital space, you open your business to many more potential members. From a local business, it becomes a boundaryless facility, able to acquire more members from all over the nation. With a club-first approach, we help fitness facilities to grow their business, allowing them to use their Spivi systems to stream their indoor cycling classes to members, from the comfort of their home."
Nir Hasson, Spivi CTO, said: "The new platform demonstrates how technology and great product design can lead to outstanding results. We are excited to bring our customers a cutting edge solution and help them in this competitive environment."