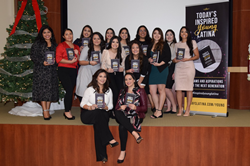 "When I was in high school, there was very little representation of Latino authorship. There were very few stories that I could identify with or relate to culturally. These ladies are changing that narrative and unleashing the endless possibilities for their generation."
NAPERVILLE, Ill. (PRWEB) December 30, 2019
Several young Hispanic women showcased their gratitude and joy as proud first-time authors as they and Jacqueline S. Ruiz, the creator of the international Today's Inspired Latina (TIL) book series, launched the book debut of "Today's Inspired Young Latina" in front of friends and family.
The festive event recently took place at J. C. Restoration, a premier Hispanic-owned restoration company in Rolling Meadows. Written by Ruiz and Alexandria Rios Taylor with a preface by acclaimed Hispanic actor Edward James Olmos, the book details stories of young Latinas overcoming obstacles and creating their own opportunities, as they become part of a dynamic and inspirational generation in American society.
"Today is another amazing representation of what it means to believe in a dream that is bigger than all of us," said Ruiz, one of the book's co-authors. "And today we have the privilege of elevating 14 young Latinas that reached out to us. They believe in something. They wowed us with their presentations that captivated our hearts and minds."
The contributing authors in the book are: Evelyn Lozano, Alondra Ivette Guevara, Arianna Urrutia, Gina Aridal Pardino, Giselle Gonzalez, Andrea Vallejo, Samantha Ante, Maria Clara Ospina, Daniela Limon, Yahayra Argueta, Erica Franco, Gabrielle Hernández Franch, Evelyn Lonzano, Scarlett Magaña-Singh.
Ruiz explained that the idea about getting young Latinas to share their stories came from TIL author Elizabeth Colón-Rivera. From then the seed was planted to premiere the first ever Young LATINATalks at Naperville's North Central College in September. A natural extension was to then capture these stories in an anthology book.
Hernández Franch, one of the book's authors, wrote about her initial dreams of becoming a doctor. Life and God had other plans for her. Becoming a contributor was as an amazing journey for her.
"People say that there are three things that change your life," she said. "It's the people you meet, the events you attend and the books that you've read have the power to change your life. And I'm here at this stage, at this incredible event with the right people holding the right book."
Taylor, also the dean of students at Glenbard West High School in Glen Ellyn, would have appreciated a book like this when she was a teenager. Unfortunately, there were not many inspirational stories to find. She hopes that will change with this new book.
"When I was in high school, there was very little representation of Latino authorship," she said. "There were very few stories that I could identify with or relate to culturally. These ladies are changing that narrative and unleashing the endless possibilities for their generation."
Today's Young Inspired Latina is available on Amazon for $14.97.
For more information about Today's Inspired Latina, visit: http://todayslatina.com.
About Today's Inspired Young Latina:
Inspired by the wildly successful and internationally acclaimed Today's Inspired Latina series, Today's Inspired Young Latina offers a compelling, hopeful collection of personal stories from the new generation that will activate your passion, wherever you are in life. With wisdom beyond their years, these young authors show us that age is no obstacle for overcoming adversity and reaching for dreams. Their stories will encourage people ages 8 to 80 to stay strong, live wisely, and always pursue their heart's desire.
Today's Inspired Latina
6 Books: 152 Authors: 1 Common Dream
A Today's Inspired Latina™ is an award-winning book series of inspiration and hope, a poignant collection of personal stories that will activate your passion. The series is the largest collection of stories in a book anthology series in the world with 152 to date in six volumes. Volumes seven and eight will be published in 2020 for more than 200 Hispanic female authors. These are success stories that need to be told, to motivate our community for generations to come. By overcoming language barriers, self-doubts and other obstacles in their way, these strong Latinas are a great example of how inspiration and perseverance can lead you to happiness and success in business and life. It's a positive, empowering read for anyone sitting on a dream and thinking it can't come true. Today's Inspired Latina™ shows that it can! For more information, visit: http://todayslatina.com.