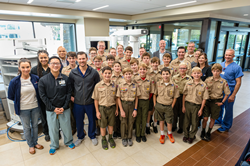 "It's exciting and rewarding to see our youth embrace tomorrow's medicine through robotic surgery," says Dr. Coronado. "The advancements in robotic surgery technology are amazing and incredibly beneficial for patients."
PLANO, Texas (PRWEB) November 26, 2019
Gifted high school students from two Plano area high schools, along with Troop 125 from the Boy Scouts of America, participated in a Robotics Day experience on Saturday, November 16th, 2019 at Medical City Plano hospital.
Led by Dr. Elizabeth Coronado, the team of hospital leadership, medical staff and da Vinci surgical training team members helped educate the students on the benefits of robotic surgery and this cutting-edge technology which has revolutionized patient care.
Excited students were able to use an actual da Vinci robot to "operate" and perform tasks with this specialized surgical device. Students used the da Vinci to simulate operating by playing a board game called "Operation" using the robot's arms and surgical tools. The participants were surprised, claiming; "This robotic surgery is harder than it looks!"
Dr. Coronado - who has specialized training, has logged thousands of hours, and has performed hundreds of cases with the da Vinci surgical system - admits that it takes a steady hand, practice and surgical skill to perform "real" procedures on "real" patients.
The da Vinci surgical system was launched in 1999 by Intuitive Surgical Company and became the first robotic-assisted surgical system cleared by the FDA for general laparoscopic surgery in 2000. Minimally invasive robotic surgery usually results in less blood loss and quicker recovery time.
Dr. Coronado likes using the da Vinci robot to perform gynecologic procedures because it allows her to see inside a patient with 3-D clarity without opening the patient up with a large incision. The robot's "hands" can reach into tighter spots and can move in ways that a human hand cannot. According to Intuitive's internal data, the da Vinci surgical system has been successfully used in over 6 million procedures globally, and its safety and efficacy rates are documented in clinical publications and the literature supporting its use.
Dr. Coronado continues to emerge as a leader in patient, peer, and community education in advanced robotic surgery. "It's exciting and rewarding to see our youth embrace tomorrow's medicine through robotic surgery," says Dr. Coronado. "The advancements in robotic surgery technology are amazing and incredibly beneficial for patients."
About Women's Specialists of Plano
Women's Specialists of Plano (WSOP) is a full service obstetrician-gynecologist practice that focuses on providing care from adolescent gynecology to menopause treatment for women in Plano, Frisco and North Dallas. The team of Plano OBGYN physicians and pregnancy doctors at WSOP strive to provide the most innovative treatment options to patients in North Texas. The Plano gynecologists at WSOP provide comprehensive obstetrics and gynecology services including minimally invasive surgical treatment such as da Vinci robotic surgery, a full range of laparoscopic and hysteroscopic procedures and in-office endometrial ablation.