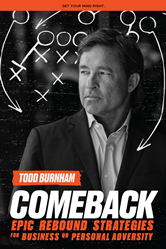 "Todd's book is packed with actionable advice for anyone who has experienced struggle in their careers or personal lives," said Veronica Pamoukaghlian
BOULDER, Colo. (PRWEB) December 20, 2022
TODD BURNHAM'S "COMEBACK" REACHES BEST SELLER STATUS ON AMAZON
Legal Entrepreneur and Mindset Coach Todd Burnham Offers Tactics for Overcoming Trauma in "COMEBACK: Epic Rebound Strategies for Business or Personal Adversity"
"COMEBACK: Epic Rebound Strategies for Business or Personal Adversity," the new book from trial lawyer and acclaimed legal entrepreneur Todd Burnham, has reached # 1 in Business Law, #2 in Law Practice and Business Ethics, and Top 10 in Law Books overall on Amazon.
"Comeback" provides readers with six easy-to-use tactics for rebounding from adversity more powerful than ever. Through case studies, personal stories, and keen observations, Burnham revolutionizes the concept of trauma and proves that approaching life's setbacks with a growth mindset can transform your life.
"Todd's book is packed with actionable advice for anyone who has experienced struggle in their careers or personal lives," said Veronica Pamoukaghlian, Editorial Director from Sutton Hart Press. "It's clear that readers have connected with 'Comeback,' and they helped it jump to the top of the Amazon Best Sellers list upon its release."
Burnham is the founder of Burnham Law, which he started in his basement in 2010. Since then, Burnham Law has expanded to eight offices across two states, with a team of 45 prominent attorneys and over 100 employees. "Comeback" compiles the insights Burnham gained and observed in his clients while building his firm and overcoming his own personal challenges—all through sheer determination and grit.
"My hope is that these lessons will give readers tools to not only withstand adversity but to grow from it," said Todd Burnham. "Writing this book was my form of service. It's a testament to my mom, Nancy, and the values she instilled in me."
"Comeback" is the latest book selected for publication by Sutton Hart Press this year. The boutique publishing house represents authors who are national experts in their fields and focuses on titles that will add value to readers' lives.
###
About Todd Burnham
Todd Burnham is an expert litigator, business strategist, entrepreneur, renowned speaker, leadership coach, and motivational author who is passionate about helping people elevate their businesses, relationships, and lives. As a New York-educated trial lawyer and founding partner of Colorado's Burnham Law, Todd's service-driven approach and enterprising insight are evinced in unparalleled growth. Through his best-selling book, "COMEBACK: Epic Rebound Strategies for Business or Personal Adversity," and podcast, "Deep Bench with Todd Burnham," Todd explores how adversity can drive influence, power, and fulfillment. Todd will be teaching as Adjunct Professor at the University of Colorado Law School this Spring to inspire future lawyers with the lessons and strategies he has learned. Learn more. http://www.toddburnham.com http://www.burnhamlaw.com
About Sutton Hart Press
Sutton Hart Press is a nonfiction publishing house based in Portland, OR. It grew out of Chiasmus Press, an award-winning fiction publisher, in response to an unmet demand for compelling and valuable nonfiction titles authored by national experts in their fields. Chiasmus Press was founded in 2002; Sutton Hart Press in 2008. Sutton Hart categories include business, entrepreneurship, law, science and health, technology, and popular culture. Learn more. http://www.suttonhart.com
Publisher Contact:
Maggie Jessup
360.521.0437