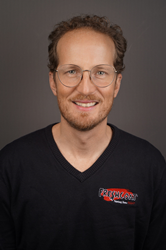 Any great home improvement experience requires top-notch customer service, high-quality work and exceptional communications. That's what I'm looking forward to bringing to this business and to this industry. - Todd Carr
CHICAGO (PRWEB) February 01, 2021
Before COVID-19 hit, Todd Carr was managing hospitality teams, helping corporations host impressive and seamless events, and even wrangling the demands of brides. Now he's looking forward to using his more than 20 years of events, management and customer service experience as the owner of a new business – Fresh Coat Painters of Metro Chicago.
"My level of experience working with clients, managing teams and exceeding expectations makes me uniquely qualified to run a home improvement company. While it may not seem like there are many parallels between the two industries, the truth is that any great home improvement experience requires top-notch customer service, high-quality work and exceptional communications. That's what I'm looking forward to bringing to this business and to this industry," Carr said.
Fresh Coat Painters of Metro Chicago serves the South Loop, West Loop, Downtown, River North and the surrounding areas. The new company offers painting services including interior and exterior painting, sealing and staining; popcorn ceiling removal; garage epoxy; drywall repair; agricultural repair; gutter cleaning and more. Fresh Coat Painters has a 24/7 receptionist, online scheduling and free detailed quotes, and they only use high-quality materials.
As part of the company's commitment to customer service, Fresh Coat Painters offers a 3-3-3 customer service pledge, which means calls will be answered by a live person within three rings, a quote will be delivered within three days (customer schedule permitting) and the job will be started within three weeks. Fresh Coat Painters has a national product partnership with Sherwin-Williams®, so products are guaranteed to be high quality.
"When COVID-19 put a halt to hospitality industry, I realized I had an opportunity to do something new and to be an even bigger part of this community. My parents owned a franchise late in their careers, so I started researching and Fresh Coat Painters spoke to me. From the logo to the mission to the services, I felt like it was a perfect fit for me and for Metro Chicago," Carr said.
Fresh Coat Painters was founded in 2004 as part of Strategic Franchising Systems. Since 2015, Fresh Coat Painters has been included in the Bond's Top 100 and named to Entrepreneur Magazine's Franchise 500 list. Fresh Coat Painters is also part of the International Franchise Association, the Small Business Association's Franchise Registry, VetFran and Minority Fran. Fresh Coat Painters of Metro Chicago is bonded and insured.
For more information about Fresh Coat Painters of Metro Chicago, call 855-912-6928, email TCarr@FreshCoatPainters.com or visit http://www.FreshCoatPainters.com/Metro-Chicago.