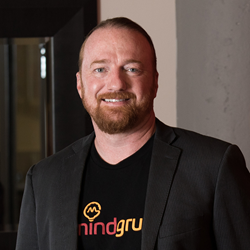 "I am a passionate believer that the technology and life sciences sectors will be responsible for solving some of our region's most challenging problems, and that supporting our state's innovative business leaders will lead to positive change for all Marylanders."
BALTIMORE (PRWEB) October 10, 2018
Mindgrub CEO Todd Marks was named the new Chairman of the Maryland Technology Council (MTC) on Tuesday, October 2nd by a unanimous board vote. Marks, a two-time EY Entrepreneur of the Year nominee, member of the Baltimore Business Journal's Tech 10, and The Daily Record's Innovator of the Year, founded Mindgrub Technologies in 2002 and has been a member of the MTC Executive Board since 2016.
The Maryland Technology Council was formed in 2017 after the merger of the region's two largest technology and life science industry associations, the Technology Council of Maryland (TCM) and the Chesapeake Regional Tech Council (CRTC). As the Chairman of the MTC Board of Directors, Marks will be responsible for leading the organization's efforts towards positioning Maryland as a top-three innovation economy for technology and life sciences.
"As a long-time supporter of the MTC, I am both humbled and energized by the new responsibility with which I've been entrusted," says Marks. "I am a passionate believer that the technology and life sciences sectors will be responsible for solving some of our region's most challenging problems, and that supporting our state's innovative business leaders will lead to positive change for all Marylanders."
"I am excited to work with Todd as we continue to support strong and vibrant technology and life science industries in Maryland," said Martin Rosendale, MTC's Chief Executive Officer. "Todd is a dynamic leader with strong ties to our member communities. Together, we will build on the platform established by the merger of CRTC and TCM under the leadership of our past Chairman, Rene LaVigne."
Marks' role as Chairman will be effective immediately. He will be presenting Mindgrub Robotics' newest initiative at the MTC's next event, FounderTrac Demo Day on November 6, 2018 in Annapolis, MD.