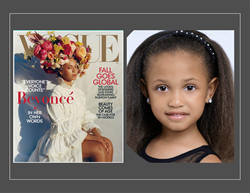 The Toddlewood brand is excited to be part of the celebration of diversity in fashion with beautiful diverse little girls...as they are our future
NEW YORK (PRWEB) August 31, 2018
Tricia Messeroux and Toddlewood are known world-wide for her ability to recreate red carpet looks for the The Golden Globes, Grammy Awards and The Oscars with kids in a matter of 2-3 days from the big red-carpet events. This fall, while Tricia is giving herself more time to plan, strategize and create, she and her team will be taking on the fashion world and their highly sought-after magazine covers.
The September issues of fashion magazines are the biggest ones of every year. They set the mood for fall and Spring fashion and they happen to have the greatest number of pages. This year, Tricia Messeroux, an African-American/Haitian American woman who has two daughters (age 7 and 13) is excited to see the emphasis on diversity among the fashion magazines. Influential, strong, black women are heavily featured and grace the covers of these great publications. Tricia has her creative vision on Lupita Nyongo, Naomi Campell, Beyonce, Yara Shahidi, Tiffany Haddish, Zendaya, Issa Rae and even taking a shot at recreating LeBron James from the GQ cover.
After an on-line casting call, Tricia has chosen nine beautiful African American children to enter the world of Toddlewood for a dynamic photo shoot experience with her and her team. The photo shoot will take place during Labor Day weekend at the Toddlewood Studio, 818 Merrick Road, Baldwin, NY 11510. The reveal will take place at a gallery style event at the Toddlewood Studio, then they will be exhibited on-line/social media. Each of the images will also be exhibited at 2 – 3 fashion showcases in NYC and Brooklyn during the heart of New York Fashion Week NYFW.
"As a black woman raising two girls in an environment where we are still working towards equality, acceptance and breakthrough, it's a breath of fresh air to witness the fashion world collaboratively embracing diversity, inclusion and saluting our beauty. Fashion is powerful and so are women…women of all races. The Toddlewood brand is excited to be part of the celebration with beautiful diverse little girls as they are our future…" quotes Tricia Messeroux.
About Toddlewood®
Created by former Advertising Executive and New York-based photographer Tricia Messeroux-Curwen, Toddlewood® has been in production since February 2008. With exquisite attention to detail, the Toddlewood® team transforms toddlers in photographs as iconic figures in Hollywood and public service. Each year Tricia and her creative team recreates every detail for at least 8 – 10 celebrities per award ceremony from hair and make-up, custom wardrobe recreation and set design. This happens within 36 hours just in time for the A-List media to attend and feature the photo shoots. At the 36th hour, the looks go viral and many times Toddlewood is "trending" according to The Today Show and Yahoo.com. Tricia and Toddlewood® are regularly featured on Access Hollywood, The Insider, ABC News, Fox News, People Magazine, In Touch Magazine, The Huffington Post, Good Morning America, and E! News to name a few. Tricia Messeroux-Curwen is globally recognized for her work and is often the subject of many international interviews in countries like Australia, Dubai, London and New Zealand.