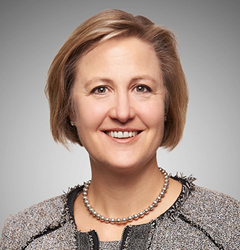 "I am confident that Maria will further advance the future-focused principals and passion for connections that the Toffler's first envisioned," said Deborah Westphal.
ARLINGTON, Va. (PRWEB) December 19, 2018
One of the fastest-growing private companies in America, Toffler Associates, announces Maria Bothwell as President and CEO. Bothwell, who previously served as COO of the future-focused strategic advisory firm, succeeds current CEO Deborah Westphal. Westphal will continue as Chairman of the Board.
Toffler Associates, founded in 1996 by world-renowned futurists and authors Alvin and Heidi Toffler, experienced considerable growth under Westphal's twelve-year leadership. The last three years alone have seen an impressive growth rate of 114 percent, placing them on the Inc. 5000 list two years running and being named as one of Consulting Magazine's "Seven Small Jewels." Equally as important was the recognition as a CARE Great Place to Work winner and SHRM When Work Works finalist for creating an environment that allows Toffler Associates to put into practice their core values of lifelong learning, thought diversity, speaking truth to power, and a commitment to connecting people.
"The time was right for me to step down from day-to-day operations and Maria is the right person to lead the firm in continued growth," said Deborah Westphal. "Her deep experience with helping global leaders transform their organizations through strategic consulting is invaluable to both our clients and our employees. I am confident that Maria will further advance the future-focused principals and passion for connections that the Toffler's first envisioned."
Bothwell, who brings wide-ranging executive experience in leading and developing global businesses, will continue to build on the foundation that she has created during her role as COO. Drawing on her expertise, she is focused on Toffler Associate's unwavering commitment to be a catalyst for change and create future value in the commercial and government sectors.
"I joined Toffler Associates because of the impact they make by helping their clients navigate today's connected global landscape with a focus on tomorrow. Deborah has successfully steered the firm into a business that truly gets beneath the surface of the disruptions impacting companies to prepare them for the future," said Maria Bothwell. "I look forward to working with our great team and keeping the momentum going."
As Westphal hands the baton to Bothwell, she will focus on writing and public speaking. Under the leadership of Bothwell, Toffler Associates will continue to advise organizations with a specific focus on identifying disruptive technology, business resiliency and security, and human-centric workforce strategy empowering companies to discover new opportunities and create value in a complex world where change is accelerating.
About Toffler Associates
Toffler Associates is a strategic advisory firm that helps businesses and public entities capitalize on opportunities, build agility, and mitigate risk in an uncertain future. Our unwavering commitment to be a catalyst for change is backed by a Future Proof® business consulting approach. We help global leaders ask the right questions, understand how future shifts impact current decisions, and position their organization to create future value. Learn more at tofflerassociates.com.