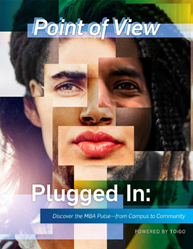 Understanding the shifts that are occurring on campus—and in society—from the next-gen talent's perspective is critical.
OAKLAND, Calif. (PRWEB) April 13, 2020
The Toigo Foundation, a nonprofit at the forefront of developing diverse talent for leadership in the finance industry, announced today the launch of an MBA-focused survey seeking insights into the distinct challenges diverse MBA students face. The findings will be released this summer as a way to help employers better understand next-generation talent, on-campus issues and more.
"Toigo Plugged In: Discover the MBA Pulse—from Campus to Community" will gauge respondents' experiences in three key facets of the MBA program—academics, community and career development. MBA candidates of all ethnicities are invited to provide their input before April 20th using the "Plugged In" survey link.
The "Plugged In" survey was conceptualized and developed by two current Toigo Fellows, Adrianna Samaniego and Zachary Lopez, both Columbia Business School Class of 2020 candidates and supported by a team of student leaders across 22 campuses nationwide to lead the effort to generate responses. The survey was proposed as part of the Foundation's Vision Award competition with the goal of extending the focus of diversity and inclusion to include key dynamics impacting campus and student life.
"For the past 30-plus years, Toigo's work has supported aspiring minority leaders in finance at the start of their MBA journey through the arcs of their careers," said Nancy Sims, President and CEO of the Toigo Foundation. "Understanding the shifts that are occurring on campus—and in society—from the next-gen talent's perspective is critical. The survey findings will provide perspectives directly from the students—the very input academic leaders and employers need as they think about recruitment, culture and building a stronger sense of inclusion. Toigo is pleased to bring student voices forward in this thought leadership piece."
Increasingly, studies have demonstrated diverse teams boost innovation and productivity—as well as the bottom line. Firms are investing in efforts to make more inclusive work environments, as are MBA campuses. In a recent Harvard Business Review article, A Bolder Vision for Business Schools, author Peter Tufano called the move by educational institutions "The Necessity of Inclusion." Results from the Toigo Plugged In survey will offer key metrics to better understand the complex dynamics that directly impact underrepresented future leaders.
About the Toigo Foundation
Toigo's mission is to transform the performance of forward-thinking organizations through education and strategies that drive greater inclusion and the ongoing development and promotion of exceptional diverse leaders. Based in Oakland, CA, the non-profit has been focused on leadership development and workplace inclusion for 30+ years. Its programs include MBA career development, leadership and advancement support, women in leadership, and Toigo Inclusion Strategy Services. More than 1,500 men and women of color have been supported by Toigo; today, many of them are leading teams and organizations in a mix of finance sectors—and beyond.