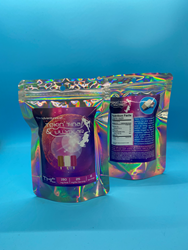 My Friends and I agree, best edible on the market!
ANNAPOLIS, Md. (PRWEB) April 20, 2020
Today we are proud to announce that Tokin Tina and the Lilly Bear are ready to bring our ground-breaking cannabis infused products to market, starting with our Astronaut Ice Cream edibles, for those seeking relief for medicinal use or enjoyment of recreational use. Our proprietary technology offers unique new ways to have your infused edibles that are safer, easier to enjoy, more dependable to use, with a longer shelf life, and with a hint of nostalgia to make this a unique product in the crowded market space.
Many customers have already had the experience of our Astronaut Ice Cream and we look forward to bringing this to the masses. Whether you are looking for a relaxing enjoyable experience or you suffer from Crohn's, Arthritis, Glaucoma, Anxiety, or many other ailments our edibles can provide long term relief. For recreational use our products bring you back to your childhood in their form and taste while giving you that grown up fun we all enjoy so much.
"After having to be on opioid medications for over a decade I discovered Tokin' Tina's products and have never looked back again. While I still have to use a pill rarely for severe flare ups, it has completely changed my quality of life as I am no longer experiencing the roller-coaster of pain management that all opioids bring with them. Whether I take a small amount for management, or a little extra when I want to have a little fun, it has been a game changer for me. As a father and multi business owner I can attest that this is the way to manage pain or have fun while not having the negative side effects of other options."
Product Availability
Medicated/infused Products are available through our distribution network that will see a rapid expansion as the public becomes aware of our awesome new flavors along with other items still in the pipeline.
Visit http://www.tokintina.com for apparel and CBD variations of our infused treats.
Founded in 2020, Tokin' Tina and the Lilly Bear "is the worldwide leader in Edible Astronaut Ice Cream.
Not just your regular old weed edible Gummy/Gummies or Chocalates....
Tokin' Tina and the Lilly Bear and Product are either registered trademarks or trademarks of Tokin' Tina And Lilly Bear in the United States and/or other countries.
The names of actual companies and products mentioned herein may be the trademarks of their respective owners.
For more information, press only:
PR Contact Name: Daniel Lilly
Phone number: 410-507-1601
Email: ttandlillybear@gmail.com
http://www.Tokintina.com
For more information on:TokinTina.com TokinTina on FaceBook, TokinTina Instagram