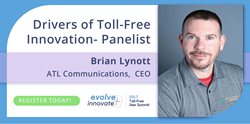 We are very excited to sponsor such an amazing event. To have a place each year where members of our community can come together and share knowledge, learn from one another, and help build a better industry is a real advantage to us all
VANCOUVER, CANADA (PRWEB) September 18, 2017
BEND, OR | Somos, the body that manages and administers the Toll-Free Number Registry, created this annual event as a way for over a hundred RespOrgs, Service Providers, and key influencers to connect, collaborate, learn, and network as they discuss the latest topics and trends that impact the industry.
At this year's event, ATL Communication is listed as one of three nominees for the Toll-Free Industry Advocacy Award. ATL is well known for their excellence in service and for continually lobbying on behalf of end users for better regulations and processes. Most recently ATL has begun leading the charge against toll-free fraud abuses which have been on the rise over the past several years.
ATL Communications CEO, Brian Lynott, and Ali Bijanfar, CTO, will both be speaking during the summit. Brian Lynott will be a panelist at the "Drivers of Toll-Free Innovation" session alongside Somos CEO Gina Perini, while Ali Bijanfar will be a panelist at the "Toll-Free Number Registry" session. Also in attendance will be, President, Mark Bilton-Smith (nominated to the Advisory Board earlier this year), Client Relations Director, Christy Belcher (active User Group participant), and Director of Sales and Marketing, Christy Green.
Of the event, Brian Lynott was quoted as saying "We are very excited to sponsor such an amazing event. To have a place each year where members of our community can come together and share knowledge, learn from one another, and help build a better industry is a real advantage to us all."
To schedule a time to meet with one of ATL's representatives at the event, please visit http://ow.ly/8Gyu30falqq or stop by their booth for more information.
About ATL Communications
ATL Communications is America and Canada's first and largest independent Responsible Organization, managing millions of toll-free and local numbers. Telephone companies, call centers, and enterprise clients have entrusted ATL Communications with the responsibility of managing and maintaining numbers and essential phone services with reliability and consistency since 1993. In 2015, ATL Communications became a pioneer in the VoIP industry by filing with the Federal Communications Commission on their behalf and gaining them the ability to maintain and manage their own local numbers. This momentous achievement means that ATL Communications was the first, and remains the only, independent Local Number Porting Service Agency. ATL Communications offers unique services in Disaster Recovery and Least Cost Routing with new products in Local Number Portability, Toll-Free Texting, and 833 Number Reservations launching in 2017. ATL Communications commitment to clients is to remove complexities, maximize productivity, enhance control, increase savings, and protect numbers.
For more information about ATL Communications visit http://atlc.com or contact:
Christy Green, cgreen(at)atlc(dot)com | 1- 866-ATL NEWS