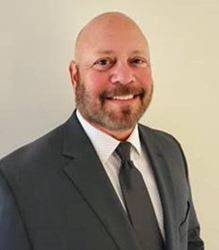 "Tom's reputation, industry knowledge, and proficiency are tremendous assets for our teams and clients. I know Tom will make a positive impact on workforce development and other key economic drivers within the Florida marketplace." - Heidi DeBenedetti, senior vice president
BOCA RATON, Fla. (PRWEB) August 24, 2020
Gilbane Building Company is pleased to welcome Tom Thrasher as the senior vice president of the Florida business unit. As a veteran industry professional, he brings over 27 years of experience to Gilbane including extensive and recent work in Florida over the past seven years. Tom's knowledge includes a wide variety of market sectors with expertise in design, construction, project management, and executive leadership. Mr. Thrasher will be responsible for Florida's business strategy, operations and sales growth to continue positioning Gilbane as a top provider of construction facility-related services while building long-term relationships with clients in the public and private sectors. Known for his charismatic personality, caring and encouraging nature, he brings creative solutions infused with positive energy and success-oriented thinking to his teams.
When asked what brought him to Gilbane, Tom replied "For me, it's about cultivating the best people who will deliver consistent market-leading results that build necessary long-term client relationships which I see at Gilbane. As a 150-year-old company, I am excited to have the opportunity to strategically grow the Florida business unit and align our Vision 2025 plan to ensure Gilbane's legacy."
Tom began his career with a degree from Purdue University in Construction Engineering and Management. He has been a committee member, at a national level, developing project management manuals and procedures, quality control programs, and innovative safety, LEAN, and KLI (Key Leading Indicator) practices. His commitment to "working smarter, not harder" can be seen in his daily pursuit of increasing efficiencies for higher team satisfaction and performance.
"The scope of expertise that Tom brings is ideal for our growing Florida market," says Heidi DeBenedetti, senior vice president of the southeast division. "Tom's reputation, industry knowledge, and proficiency are tremendous assets for our teams and clients. I know Tom will make a positive impact on workforce development and other key economic drivers within the Florida marketplace."
About Gilbane Building Company
Gilbane provides a full slate of construction and facilities-related services – from pre-construction planning and integrated consulting capabilities to comprehensive construction management, general contracting, design-build and facility management services – for clients across various markets. Founded in 1870 and still a privately held, family-owned company, Gilbane has 50 office locations worldwide. For more information, visit http://www.gilbaneco.com.