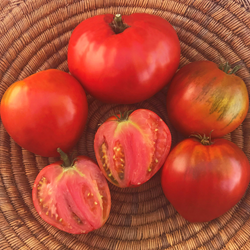 This exceptional, great-tasting tomato will carry Tony's name through future generations to enrich the lives of many.
LITTLE RIVER, Calif. (PRWEB) January 08, 2019
Gary Ibsen, founder of TomatoFest® Heirloom Tomato Seeds, author of The Great Tomato Book, grower of more than 650 varieties of certified organic, heirloom tomatoes and co-founder of World Tomato Society, announces the name change of the newly released tomato seeds, formerly called "Anthony Bourdain Tomato,' to 'Anthony's Passionate Heart.'
Ibsen said, "In our most recent contact with Anthony Bourdain's estate, the estate declined my invitation to name the tomato using Anthony's full name, ('Anthony Bourdain Tomato') as we had originally intended. We therefore agreed to name this exceptional tomato noted for its extraordinary flavors, 'Anthony's Passionate Heart' to acknowledge the passion Tony expressed for the foods, people, communities and cultures of the world.
"Anthony Bourdain was an American celebrity chef, author, and television personality who explored the cuisines, culture, joys and essentials of human existence around the world. He was an icon to me, and many others, who love food and cooking as a most enjoyable way of gathering people together to celebrate our humanity.
"Naming this tomato is our tribute to Anthony Bourdain's life by honoring his legacy with a tomato heretofore unknown...a tomato that we identified as outstanding for its bold, complex flavors and enchanting, heart-shaped appearance, 'Anthony's Passionate Heart' tomato.
"We found it suitable that 'the world's most popular fruit', a tomato, would carry the message of Anthony's valued and storied life through future generations in a way that would enrich the lives of many.
This tomato was created by respected tomato breeder, Jeff Dawson, from a crossing between Sungold and Amish Paste. This cross yielded the Amish Red which over time threw off a slicer (Red Buddha) and this red oxheart. After 7 years of stabilization it has produced beautiful, 1 lb. fruit with particularly bold, complex, fruity-sweet flavors and good acidity for perfect balance.
About TomatoFest® Heirloom Tomato Seeds
Gary Ibsen, author of 'The Great Tomato Book,' founded TomatoFest Heirloom Tomato Seeds in 1991 and revitalized the appreciation and desire for heirloom tomatoes in America. Ibsen's belief in sustainable, organic farming, seed saving and sharing seeds and the stories of their cultural histories, inspired him to grow heirloom tomato varieties for more than 30 years. He and his wife, Dagma Lacey, grow certified organic, heirloom tomatoes from seeds originally sourced from family farms around the world. Their personal production and seed harvesting techniques ensure that these precious heirloom tomato varieties will be sustained for years to come. Through their TomatoFest Seed Donation Program, they have donated organic tomato seeds to more than 380 urban gardens, school gardens, community outreach gardens around the U.S., India, Africa, and Europe. For additional information, visit: http://www.tomatofest.com/tomato-seed-donations.html