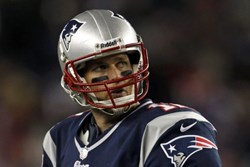 Boston, Massachusetts (PRWEB) August 16, 2013
During the New England Patriots joint practice with the Tampa Bay Buccaneers on Wednesday, Patriots players, coaches, and fans all received quite the scare. Star veteran quarterback Tom Brady went down grabbing his left knee during practice, the same one he injured back in 2008. Brady continued to practice during a few more plays before talking to Coach Belichick then leaving the field. The injury seemed to be serious at the time, and sent the football world into frenzy. Thankfully, his injury was not all that serious and Brady will most likely play in Friday's preseason game against the Buccaneers. Tickets to this preseason game can be found and purchased at http://www.Patriots-Tickets.org. Tom Brady and the Patriot's offense will be ready to go this season on their path toward another Super Bowl win. The team has three wins ever in NFL history, and although they are always a top team, has not won the championship since 2004.
In the Patriots preseason opener against the Philadelphia Eagles, all three quarterbacks got to see some time on the field. Tom Brady started things off, and with him on the field the offense played well. Except for a few players missing from last year, the team looked similar to how it has been in recent years. Second string quarterback Ryan Mallett got a go at as well. He played 25 snaps and proved to the Patriots that he can fill in when needed for Brady. The third quarterback to take the field was newcomer Tim Tebow. The game then turned from a throwing game to a running game, because of Tebow's unique skills. Belichick has not given away much about his intentions with Tebow, but it seems that he is keeping him around for when his special skills are needed on the field. Tebow's performance against the Eagles was nothing to brag about, as it is still unclear whether he will remain on the team. To follow up with more news on Tom Brady and Tim Tebow, go to http://www.Patriots-Tickets.org. Here customers can find the best prices for Patriots tickets on the web, and have fun while doing it. The site offers an easy read schedule, no service fees, and a social media hub to connect with other fans. It is the best place on the web to buy Patriots tickets for the 2013 season and read up on your favorite team at the same time. Stop by today.