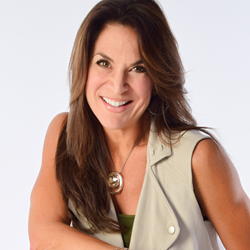 NEW YORK (PRWEB) September 04, 2018
TONE Networks, an online resource and community for women, is continuing to coach working women with access to leading experts and professionals via short-form videos and live interactive events. During the month of September, TONE Networks is focused on what it means to be resilient in your personal and professional life.
TONE Networks believes in women helping women, and as such, the month is packed with useful and accessible content:

TONE Talks: An interactive live event each Tuesday at 9 p.m. E.T. hosted by Val Grubb, TONE's Workplace Coach and HR Guru accessible at http://www.tonenetworks.com
September 4's topic will be "You Got This" the one thing successful people have in common is resilience.
September 11 discussions will focus on "Energy Drains" dealing with stress, toxic relationships, the importance of sleep, work issues and more that drain our energy and how to be free of these drains.
September 18 centers in on "Survival Secrets" and the importance of social bonds and how to keep joy plentiful in life.
TONE Live: September 25 at 1 p.m. E.T. (restream at 9 p.m. E.T.) accessible at http://www.tonenetworks.com and Facebook Live: Join Dr. Debi Silber, Personal Development Expert at TONE Networks as she discusses her breakthrough research on the five stages of post-betrayal transformation, 1. Out of Balance, 2. Breakdown, 3. Survival, 4. New Normal, 5. Healing, Rebirth and New World View..
TONE has also added 28 videos from The Sleep Ambassador®, Nancy Rothstein, director of CIRCADIAN® Corporate Sleep Programs. Nancy addresses the importance of sleep, outlines habits to ensure a restful sleep and discusses why a good night's sleep is vital for tweens and teens as their bodies grow and develop – very timely content for mothers and children as they head back to school. Sample videos can be viewed at http://www.tonenetworks.com
TONE continues to dedicate time and resources to building a substantial library for their members which now contains more than 500 three to five-minute videos on topics ranging from professional development, career enhancement and work solutions, to nutrition, health, mind/body balance and finances.
For more information about TONE Networks visit their website at http://www.tonenetworks.com
About TONE Networks: a subscription-based online resource for women, delivering real advice from credentialed experts through short videos, and helping busy women grow personally and professionally. As a one-stop resource for self-care the content is customized and can be consumed in minutes. With more than 500 videos from experts, there is guaranteed content for women from any walk of life.
About TONE Live: a monthly one-hour live streaming event, where experts share practical steps to help women manage specific areas of their lives. Past TONE Live events have covered topics such as: Creating a Better You, Power through Procrastination, Workplace Playbook for Women. Each month a different expert covers a timely topic. Members can write in questions to the expert for personal and valuable advice during the event.