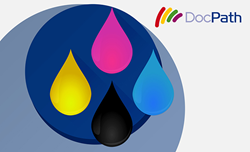 DocPath TonerMIST, a comprehensive and easy-to-integrate document software solution aimed at reducing the high costs related to toner consumption
Suwanee, GA (PRWEB) April 20, 2017
DocPath, a world-leading manufacturer and supplier of Output Management and Spooling document software, today announced the launch of an improved version of its DocPath TonerMIST document software solution. TonerMIST is specifically designed to provide companies of any size and business area with a comprehensive, efficient and flexible toner cost saving solution which substantially reduces toner consumption and related print costs.
DocPath TonerMIST is part of DocPath's Printer Spool Management product area, a set of document software solutions which also includes the DocPath PrintSLIM solution, for remote print process optimization. DocPath TonerMIST allows companies to implement corporate print cost saving policies, which are configured and controlled via a centralized management software Web tool, and apply customized print process optimization savings and print settings by department or user profile. In addition, the process is completely transparent, i.e. the end user just prints as normal without any need of training.
Enhanced User Experience and Configuration Options
Through the multiple improvements applied to all of the components of the print cost saving software, users of the latest DocPath TonerMIST release may benefit from streamlined and optimized print processes, greater performance, enhanced ease of use and easily updatable configuration. Among other new features, the most relevant enhancements applied to increase overall usability include: a Statistics section in the print management software that provides statistical data in chart format regarding saved toner percentages and the number of printed pages, as well as other user-specified, data; a traceability system to make it easier to detect any operation errors; a new auto-completion function applied across the entire TonerMIST Web interface; and a large amount of new warnings and informative messages.
Additionally, configuration of printers to be added to the TonerMIST system and groups of toner saving profiles is now much simpler. As such, users can now easily perform scheduled and mass importation processes of printers into the DocPath TonerMIST system, which is especially useful for large enterprises operating with a large number of printers in remote environments. Also, a new feature allows the most adequate toner saving profile to be automatically assigned to newly imported printers.
The above-mentioned list of enhancements, as well as a large number of additional new features turn DocPath TonerMIST into one of the most complete and flexible toner saving software solutions in the market, as it provides the most effective methods to reduce any company's printing costs by implementing advanced toner saving technology.
About DocPath
DocPath is a leading business document software manufacturer that provides its world-wide customers the technology that allows them to complement their ERP and implement sophisticated Customer Communications Management and Document Output Management systems, as well as advanced document spooling software. Created in 1992, DocPath's Solutions are found in companies scattered across the globe. Its international clients include prestigious banks and first class corporations, which are aided by DocPath's Solutions as the complicated and critical tasks involving the design, generation and distribution of business and customer documents are significantly simplified. DocPath maintains a strong commitment to R&D&i, an area that receives a good amount of its revenue, and in which lies the key to the company's success.
For more information, visit: docpath.com
DocPath is a registered trademark of DocPath Corp. All rights reserved. Other trademarks mentioned in this press release may be the property of their respective owners.