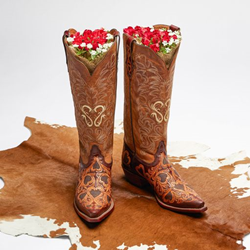 FORT WORTH, Texas (PRWEB) February 10, 2023
Tony Lama Boots is unlocking their vault to give away one pair of hand-tooled Hearts & Scrolls women's boots from the Tony Lama Signature Series. This special boot debuted in 2010 and has not been available for purchase since 2017.
These gorgeous 15" boots are crafted with cognac and natural cowhide leather that is meticulously hand-tooled with hearts and scrolls. A true work-of-art from the inside-out, this pair of boots features a snip toe, 1 ⅜" western heel, leather outsole, and premium cushioned insole.
This giveaway will run from Friday, February 10, 2023 at 10 a.m. CST through Tuesday, February 14 at 10 a.m. CST. To enter, these steps must be followed:
1. Text "Valentine" to (833) 358-7846.
2. Click the link in the text received.
3. Fill out the form.
4. Submit the form after it has been completely filled out.
Since these boots are no longer being produced, they will be custom made for the winner in the Tony Lama factory in El Paso, Texas. Due to limited availability of leather and other components, these boots can only be made from a women's size 5B-9B and may be delivered through fall of 2023. Official rules can be found here.
About Tony Lama Boots
Tony Lama Boots is a brand of western footwear that was founded in 1911 by Tony Lama in El Paso, Texas. Throughout history, Tony Lama has repeatedly proven to be the world's most recognized western boot brand by building a wide range of boots for both men and women, including cowboy boots, work boots, and casual shoes. Each pair of prized Tony Lama boots is a true work of art, meticulously built by hand, crafted of the finest leathers. This reputation comes from 100+ years of experience in perfecting every step in the bootmaking process. For more information, visit http://www.tonylama.com.
Facebook: @TonyLama | Instagram: @TonyLamaBoots | Twitter: @TonyLama