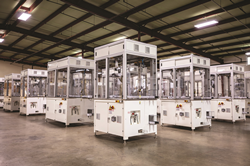 Manufacturers today are challenged by cost and delivery constraints. Our FLEXBASE systems provide an economical solution that enhances production operations, getting product to market faster while improving repeatability and reliability.
MACOMB, Mich. (PRWEB) April 03, 2020
Tooling Tech Group (TTG) has announced the availability of its FLEXBASE standardized modular automation cell designed to easily integrate with robotics, vision, lasers and other technologies, replacing repetitive manual operations and reducing time to market at a reasonable cost. Flexible and scalable, the FLEXBASE systems can be configured as a standalone, automated workstation with manual loading and unloading, or linked together via conveyors to quickly create a complete automated assembly line.
"All manufacturers today are challenged by cost and delivery constraints," said Matt Phillips, TTG Automation President. "Whether their operations involve joining, marking, inspection, product assembly or other processes, our FLEXBASE systems provides an economical solution to enhance production operations, getting product to market faster while improving repeatability and reliability."
FLEXBASE features a welded steel frame base in standard sizes of either 48" x 40" or 72" x 40" and a 37" high aluminum top plate ready to be fitted with custom tooling or fixturing. Each standard system comes with an upper and lower conveyor with stop and blocked sensors and pallets with nests that conform to almost any product. Additionally, all standard systems can be quickly modified per specific application needs.
Featuring Allen Bradley Compact GuardLogix® controls and 24 VDC power supply, FLEXBASE is a compact automation solution that is fully wired with all safety feature in place. The electrical enclosure has space for adding a variety of components such as motion controllers and drives, robot controllers, PCs or other larger devices. Options are also available for adding pallet stops and sensors, lift and locate, barcode scanners and even elevators for recirculating pallets.
With over 125 installations, FLEXBASE has proven its effectiveness at a variety of OEM and Tier supplier companies. Features and benefits include the following:

Substantially reduces time to market
Wide variety of robot adaptations and tooling
Easily retooled for product changes
Increases throughput
Standard design offers ease of training
Builds process reliability and repeatability
Clean-room certified
For more information on FlexBase, visit https://www.toolingtechgroup.com/flexbase/ or call (586) 580-4048
END
About Tooling Tech Group
Tooling Tech Group (TTG) builds custom automated systems for assembly, joining and inspection as well as tooling for a variety of applications including thermoform molding, high compression composite molding, blow molding, rotational molding, die casting, and stamping. Industries served include automotive, appliance, lawn and garden, agricultural, aerospace, marine, and off-road vehicle industries, among others.
Originally founded in 1982, the company has grown organically and through acquisitions to become the second largest tooling supplier in the United States. It has more than 1-million combined square feet of manufacturing space, employs approximately 600 people and has a total of 12 locations across four states as well as a sales office in China. TTG takes pride in its promise to deliver on time, every time. Visit http://www.toolingtechgroup.com for more information.