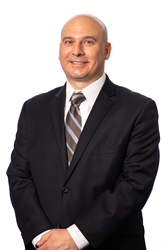 "Todd has proven experience in supervising a corporate sales team across manufacturing locations, as well as for driving sales growth. We know he will be a great asset in helping Tooling Tech Group continue to grow and expand our customer relationships."
MACOMB, Mich. (PRWEB) June 12, 2019
Tooling Tech Group (TTG), a leading provider of highly engineered tools and assembly equipment to a wide range of industries, has announced that it has hired Todd Wodzinski as the company's Chief Commercial Officer (CCO). Wodzinski will be responsible for leading the sales and marketing activities for the company including sales team management, market planning and business development.
"Todd has proven experience in supervising a corporate sales team across manufacturing locations, as well as for driving sales growth," said TTG CEO Lee Childers. "We know he will be a great asset in helping Tooling Tech Group continue to grow and expand our customer relationships."
Wodzinski has worked in the automotive industry for over 15 years with experience in sales, marketing, new business development and engineering. Most recently he was global vice president of sales, business development and marketing for Hanwha Azdel (Warren, Mich.), a manufacturer of high-performance thermoplastic composites. His work in the automotive industry has earned him an Automotive News PACE Award, and an R&D Top 100 Automotive Innovations Award.
Prior to entering the private sector, Wodzinski was an operations officer in the United States Navy. He has a bachelor's degree in electrical engineering from Michigan Technological University and a master's in marketing and supply chain management from Michigan State University. Additionally, Wodzinski is a certified Six Sigma Black Belt.
About Tooling Tech Group
Tooling Tech Group builds custom tooling for a variety of applications including thermoform molding, high compression composite molding, blow molding, rotational molding, die casting, and stamping, as well as providing secondary equipment and automated solutions. Industries served include automotive, appliance, lawn and garden, agricultural, aerospace, marine, and off-road vehicle industries, among others.
Through organic growth and acquisitions, the company has experienced significant growth with more than 1-million combined square feet of manufacturing space. It employs approximately 600 people and has a total of 13 locations across five states. TTG takes pride in its promise to deliver on time, every time. Divisions of the company include Tooling Technology, Majestic Industries, G.H. Tool, Century Tool & Gage, TTG Automation, Die Cad Group and Alpha Integration. Visit http://www.toolingtechgroup.com for more information.