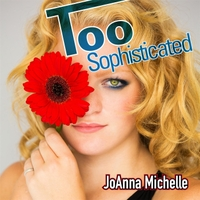 "I think creating happiness in the world is the ultimate definition of sophistication. Putting your heart and soul into what you do is sophisticated." -- JoAnna Michelle
New York, NY (PRWEB) May 10, 2017
Juxtaposing an urbane glowing life filled with fun, friends and love against a mundane hateful existence in front of a computer screen, emerging artist JoAnna Michelle sings out with super sass on new single "Too Sophisticated." The up-and-coming pop songstress, who was herself the victim of bullying, goes all out with her vocal attack against cyberbullies and their wrath. JoAnna Michelle delivers the message that everyone deserves to live a life free from bullying and that it is time to take a stand and let the callous bullies know that their victims are "Too Sophisticated" to even allow the harassment to bother them. Purchase "Too Sophisticated" on iTunes now.
JoAnna Michelle states: "I am singing 'Too Sophisticated' to all the bullies and haters out there. Ya know, they are all a bunch of squares! I can't relate to mean and hateful people. It's hard to understand how people spend so much time trying to hate on people instead of focusing on their own lives. Hate is a total waste of emotion and brain power."
The song "Too Sophisticated" was originally written and produced by Marty "LSD" Bowie and delivers a one-two knockout missive to bullying perpetrators everywhere. The new pop-dance single also received additional vocal production and mixing from Josh Harris. "Too Sophisticated" is now ready to be released to radio and clubs internationally along with a soon-to-be released heroic music video from Vuria Creative, which was directed by Martin Diamond and Mike Wittmers. JoAnna's "Too Sophisticated" package, produced by Jimmy D Robinson, will also feature slammin' dance remixes from Dave Audé, Dirty Werk, Moto Blanco, Dave Matthias, DJ Globvibes, Kyodee, Roger Grey, and Edson Pride.
"One of my favorite aspects about working with Joanna is that she is a multi-instrumentalist," states Josh Harris, international producer. "In addition to singing, she also plays drums, keys, bass and guitar. Most people aren't aware of it. So, when we're in the studio together, we can speak musician-to-musician. She shows up to sessions prepared and ready to work. That goes a long way for me as a producer, and you don't always see that kind of focus in younger talent."
JoAnna Michelle is a young, emerging musician-artist born and bred in Wichita, Kansas. Her unique style unites her love of classic rock-and-roll with modern hip-hop, pop, and R&B music genres. The ultimate result is an exciting collision of style and sound perfect for dancing. With a variety of live shows on her resume already, JoAnna is steadily gaining momentum on the Kansas music scene and venues beyond her home state.
"My ideal superstar match would be Bruno Mars, because he is one of the most talented and creative people I have ever watched perform," admits JoAnna Michelle. "His music is what people can dance to and makes so many people happy. I think creating happiness in the world is the ultimate definition of sophistication. Putting your heart and soul into what you do is sophisticated."
ABOUT JOANNA MICHELLE
JoAnna is a rare breath of musical and performance authenticity in today's over-produced, hyper-digitized music scene. A native of Wichita, Kansas, she spent the majority of her childhood studying and emulating hundreds of artists of both past and present generations, appreciating and "sponging" everything from southern rock to hip hop, country/western to pop, rock to rap, and everything in between. Having started ballet and tap lessons at the age of four, it soon became very clear that music, dance and performance are her passions. As early as first grade, JoAnna began piano lessons, and has since become a true multi-instrumentalist - proficient at drums, guitar, keyboards, and vocals. While developing her musical abilities, she has also continued to pursue dance studies, focusing on hip hop, ballet, modern, jazz, and tap. After years of studying and emulating others, JoAnna has found her own voice, and made her worldwide debut in 2016 with her break-through single, "My Snap Story." Her second single "Entourage (I Am My Own)" was released in October of 2016. The inspiration for "Entourage" was the recent experiences while breaking into the music industry. She plays the drums on the "Entourage" track as well as lead vocals. JoAnna loves to be on stage performing in front of people, connecting with her audience and fans. This up and coming young artist is excited to begin her musical journey, and take you along for the ride. Stay tuned.
For more information on JoAnna Michelle and her upcoming performances, please visit her website at http://www.joannamichellemusic.com.