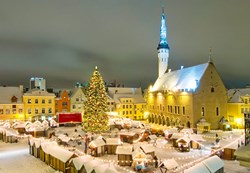 The popular Christmas market destinations are always a safe-bet but we recognise that some of our customers are looking for a different experience.
(PRWEB UK) 28 November 2013
Alpha Holiday Lettings has announced their annual list of delightful, yet unusual Christmas market destinations to inspire shoppers and travel lovers looking to venture off the beaten path this holiday season.
While many people traditionally associate Christmas markets with well-known favourites such as Berlin, Munich, Vienna and Prague, Alpha Holiday Lettings searched high and low to come up with a list of shopping hot spots that break away from the mainstream.
1. Zagreb, Croatia
Zagreb city's central Jelačić Square and surrounding streets are transformed into an entertainment stage while vibrant market stalls sell local produce and traditional Croatian gifts.
2. Manchester, UK
Little known outside of the UK, this award-winning Christmas market is one of the largest in the country, spreading across 6 areas in the city.
3. St Petersburg, Russia
The picturesque St Petersburg markets offer a Christmas experience with an international flavour. Market stalls showcase traditional Russian entertainment and gifts, as well as a variety of arts and crafts from countries abroad.
4. Chicago, USA
Inspired by the Christkindlesmarkt in Nuremberg, Germany, Europe comes to the heart of the Windy City.
5. Melbourne, Australia
December falls squarely in the middle of the balmy Australian summer, making the twilight Christmas markets by Melbourne Harbour ideal for holiday makers looking to escape the winter chill.
6. Tallinn, Estonia
This Baltic capital features a massive, wonderfully decorated Christmas tree in the center square, surrounded by cabins and stalls selling traditional Christmas gifts and delicacies.
7. Singapore
The famous Orchard Road shopping district is transformed into a Christmas extravaganza, with twinkling lights adorning the whole boulevard and surrounding buildings.
8. Dubai, United Arab Emirates
Dubai may seem like a rather unusual Christmas shopping destination but their annual Christmas Festival has a lot to offer, including a wide variety of top designer brands at discounted prices.
9. Krakow, Poland
Krakow's enchanting Rynek Glowny is widely praised as one of the most beautiful squares in Europe and is home to an impressive array of Christmas market stalls throughout December.
10. Dijon, France
Families will flock to the ice skating rink while bargain-hungry shoppers browse colourful stalls selling local produce, ranging from Dijon mustard to foie gras, arts and crafts.
"The popular Christmas market destinations are always a safe-bet but we recognise that some of our customers are looking for a different experience – maybe something a bit removed from the run-of-the-mill tourist spots" said Tom Lei, CEO of Alpha Holiday Lettings. "Our travel experts are available to answer questions directly through our 'online live chat' platform and can help you find the perfect holiday rental in any of these unique Christmas market destinations."
Holiday makers keen to discover more top 10 travel ideas or view the latest rental offers around the world can visit the Alpha Holiday Lettings website for more information.
About Alpha Holiday Lettings
Alpha Holiday Lettings a leading holiday rentals website, offering self-catering apartments, cottages and holiday villas in Spain, England, France, Portugal, Italy, Cyprus, Turkey and other destinations around the world. Most properties listed on Alpha Holiday Lettings are privately owned and are booked directly with holiday home owners. For more information, visit http://www.alphaholidaylettings.com.