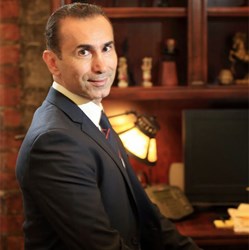 We don't make empty promises, we deliver results.Mesriani Law Group Top Employment and Labor Law Firms in California
Los Angeles, CA (PRWEB) December 13, 2013
Expert Los Angeles, California employment and labor law attorney, Rodney Mesriani, Esq., is in high spirits, following the recent settlement award obtained by the U.S. Equal Employment Opportunity Commission (EEOC) against Pace Solano.
According to court documents (EEOC v. Pace Solano, with Civil Action No. CV 12-01823 MCE-DAD), Pace Solano recently agreed to pay $130,000.00 and implement preventive measures to settle a disability discrimination case initiated by the U.S. Equal Employment Opportunity Commission (EEOC) on October 17, 2013. The successful settlement agreement was also published by EEOC in its official website (http://www.eeoc.gov/eeoc/newsroom/release/10-17-13b.cfm).
In the above case, court records revealed that Pace Solano refused to hire Holly because of her disability, despite the fact that Holly successfully completed all tests and was cleared to do the job by Pace Solano's own occupational health provider.
Best Los Angeles employment discrimination lawyer, Rodney Mesriani, cautions all employees to be wary against disability discrimination in the work place. Tell tale signs of disability discrimination include being harassed, demoted or treated differently because of the employee's disabled physical, emotional or psychological state. Mr. Mesriani adds that, "Many people think that disability discrimination is committed only against an employee on account of his current disabled state. On the contrary, disability discrimination also happens if an employee is harassed or demoted due to his previous disabled condition. Even if the employee is no longer disabled but the employer thinks that the employee is still disabled and the employer discriminates or harasses the employee because of this perceived disability, then the employer is still guilty of disability discrimination in the work place."
"The recent successful settlement by EEOC against Pace Solano goes to show that the system still works in protecting every employee in the work place against all employment problems and labor law issues suffered by our work force. Hence, any employee who feels that he or she has been discriminated against or harassed in the workplace should not fear their erring employer and should report the injustice immediately to the proper authorities", stressed Mr. Mesriani of Top Employment Attorneys in Los Angeles California.
Top Employment Attorneys' expert employment discrimination claims attorneys in Los Angeles are well known for their swift resolution of every employment discrimination case in Los Angeles and throughout California, to include: sexual discrimination, racial discrimination, sexual orientation discrimination, disability discrimination, national origin discrimination and religious discrimination. The highly competent employment discrimination claims attorneys of the Mesriani Law Group have years of experience not only in litigating discrimination cases but also in representing client victims of discrimination in negotiations, mediations, arbitrations and any other alternative venues for dispute resolutions.
About Mesriani Law Group, P.C.
Mesriani Law Group is a Los Angeles, California based employment and labor law firm founded by Rodney Mesriani, Esq., with decades of experience in helping wrongful termination and employment discrimination victims, as well as victims of labor law violations obtain the highest compensation they deserve. The law firm's best Los Angeles employment and labor law lawyers, based in 5732 Melrose Ave., Suite 250, Los Angeles, CA 90038, specialize in handling all types of wrongful termination cases; violation of retaliation laws; violation of whistle blowing laws; and employment discrimination or harassment, to include age discrimination, racial discrimination, gender discrimination, disability discrimination, religious discrimination, pregnancy discrimination, national origin discrimination and workers compensation discrimination, as well as labor law violations to include: violations of the minimum wage, overtime, meal and rest break laws and other labor law violations. To learn more about the firm, call 1.866.998.2545 for a free case evaluation or email them or take advantage of their free on-line case submission.