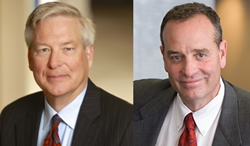 Atlanta, Georgia (PRWEB) May 29, 2014
Krevolin & Horst, LLC is pleased to announce the 2014 edition of Chambers USA has recognized partners Jeffrey D. Horst and Halsey G. Knapp as leaders in Georgia Litigation. Known to be the most accurate and reliable among legal directories, Mr. Horst and Mr. Knapp have both been honored by Chambers USA for multiple years and are among the very few attorneys from a small firm to achieve such recognition.
Described by his peers as a "well-respected" litigator and an "excellent trial attorney," Jeffrey D. Horst is well-known for his creative approach, trial experience and successful track record in handling cutting edge legal issues. Chambers has described Jeff as a leader "who is well versed in a number of areas of business litigation, including corporate governance, employment, insurance coverage, intellectual property and professional liability". Jeff has been recognized by Chambers every year since 2008. Also, Jeff is a Fellow in the American Academy of Trial Counsel, an honor bestowed upon less than half a percent of lawyers nationwide.
Halsey G. Knapp has been described by Chambers as a "talented trial lawyer known for being tenacious" and "solution-oriented". Halsey has extensive trial experience with complex commercial litigation matters in state and federal courts across the US. Halsey's trial practice incudes representing clients in corporate governance, business tort, trade secret, restrictive covenant and technology litigation. After 34 years of practice, Halsey joined Krevolin & Horst, along with his litigation team, enhancing the depth of the firm's already outstanding litigation practice. Halsey has also been recognized by Chambers USA for many consecutive years, as well as numerous other legal recognitions.
About Chambers USA
Chambers USA ranks the firms and lawyers considered leaders in their field through in-depth, unbiased research conducted by its team of highly qualified and experienced researchers. All interviews are entirely confidential and un-attributed, and help the editorial team to assess individual as well as firm-wide strengths, areas of expertise, and reputation in the market. Greater consideration is given to the opinions of clients, helping to eliminate any biased viewpoints. Chambers researches, compiles and launches completely new editions of the directories each year. For more information, please visit http://www.chambersandpartners.com/USA.
About Krevolin & Horst, LLC
Krevolin & Horst, LLC offers high quality legal services, business advice, and creative thinking. Each of the firm's lawyers has specific expertise that is able to serve their clients' needs most effectively and to get the best result possible for that client. Their lawyers are very agile and creative and have years of experience achieving top results. All of their partners have been recognized as tops in their field.
Krevolin & Horst's practice focuses on corporate, technology, commercial real estate, trial and appellate litigation including white collar defense and Qui Tam/False Claims Act/Whistleblower claims. They represent individuals, entrepreneurs, and companies nationwide ranging from start-ups to large, publicly traded and privately held businesses. All of their attorneys have worked at large firms and several of our attorneys have been involved in high profile cases that have been written about in the New York Times, Wall Street Journal, National Law Review, and others.
Krevolin & Horst believes the business relationship with their clients should be honest, cordial, and fair so they make realistic commitments, and then do what they promise.
Krevolin & Horst, LLC is a member of the International Society of Primerus Law Firms.