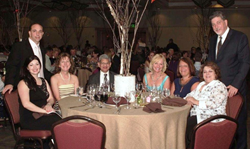 Albany, New York (PRWEB) August 25, 2014
Iseman, Cunningham, Riester & Hyde LLP (ICRH) is pleased to announce the firm's support for the Adirondack Health Foundation at its recent gala held in Lake Placid, New York. Nearly 300 attended the event honoring Dr. Woods McCahill, a long-time physician at the Lake Placid Health Center. Attending the event on behalf of ICRH were founding partner Carol Hyde, seated second from left, and Richard Graham, of counsel, standing at right. The event raised more than $125,000 to support programs and services of Adirondack Health.
About Iseman, Cunningham, Riester & Hyde LLP
Iseman, Cunningham, Riester & Hyde LLP, a law firm with offices in Albany and Poughkeepsie, New York has extensive experience in litigated and transactional matters and represents clients in many areas of law, including health care; insurance; financial; professional liability; construction; retail; municipal; nonprofit and real estate. As experienced counselors, negotiators and litigators, the firm's attorneys advise clients on complex transactions and disputes; bond financings; securities claims; tax planning; creditors' rights including workouts and bankruptcy; professional licensing, and labor and employment, including collective bargaining negotiations.
Iseman, Cunningham, Riester & Hyde LLP is a member of the International Society of Primerus Law Firms.