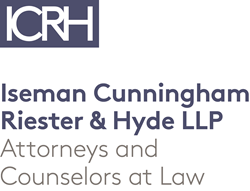 Albany, New York (PRWEB) October 29, 2014
Iseman, Cunningham, Riester & Hyde LLP (ICRH) is proud to support Senior Services of Albany, the beneficiary of this year's Community Connection initiative sponsored by the Albany Chapter of the international Association of Legal Administrators (ALA). ALA encourages its chapters to support the association's mission of making a difference in their region through an annual "community connection." The program brings ALA chapters, members, law firms, business partners, relatives and friends together to contribute time, energy and resources toward improving their own communities. Each year, the Albany Chapter chooses a different local organization as the beneficiary.
Senior Services of Albany provides low-income senior citizens with transportation, home visits, health insurance counseling, health and wellness programs, and many other vital services. Senior Services also manages one of the largest Meals on Wheels programs in upstate New York. seniorservicesofalbany.com
ICRH has been a strong supporter of ALA for more than 20 years. Mary Lawson, the firm's administrator, served for many years on the board of the Albany chapter, and also served for three years as a member of the regional management team for the international organization. She remains an active member of the Albany chapter. ALA, formed in 1971, provides support to professionals involved in the management of law firms, corporate legal departments and government legal agencies.
About Iseman, Cunningham, Riester & Hyde LLP
Iseman, Cunningham, Riester & Hyde LLP has extensive experience in litigated and transactional matters and represents clients in many areas of law, including health care; insurance; financial; professional liability; construction; retail; municipal; nonprofit and real estate. As experienced counselors, negotiators and litigators, the firm's attorneys advise clients on complex transactions and disputes; bond financings; securities claims; tax planning; creditors' rights including workouts and bankruptcy; professional licensing, and labor and employment, including collective bargaining negotiations.
Iseman, Cunningham, Riester & Hyde LLP is a member of the International Society of Primerus Law Firms.