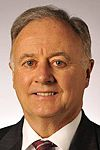 Albany, New York (PRWEB) November 03, 2014
Albany attorney, Robert H. Iseman, founding partner of Iseman, Cunningham, Riester and Hyde LLP, presented at the New York State Bar Association Health Law Section meeting, Healthcare Delivery System and Payment Reform in New York State, held October 24, 2014, in Albany.
Iseman served on a panel addressing the subject Population Health Management from the Perspective of a Physician Group, an IPA, a PHO, and an Integrated Delivery System. His presentation was titled, "Physician-Hospital Organization (PHO) Formation—Hospitals Are from Mars, Doctors Are from Venus, and Continuing Care is Out of the Solar System." The event served as an opportunity for attorneys, policymakers, and those implementing health care change to discuss the implications on health care delivery system and payment reform initiatives.
About Iseman, Cunningham, Riester & Hyde LLP
Iseman, Cunningham, Riester & Hyde LLP has extensive experience in litigated and transactional matters and represents clients in many areas of law, including health care; insurance; financial; professional liability; construction; retail; municipal; nonprofit and real estate. As experienced counselors, negotiators and litigators, the firm's attorneys advise clients on complex transactions and disputes; bond financings; securities claims; tax planning; creditors' rights including workouts and bankruptcy; professional licensing, and labor and employment, including collective bargaining negotiations.
Iseman, Cunningham, Riester & Hyde LLP is a member of the International Society of Primerus Law Firms.