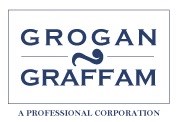 Pittsburgh, Pennsylvania (PRWEB) December 05, 2013
Grogan Graffam, P.C. is pleased to announce the firm has been named a Tier 1 Pittsburgh "Best Law Firm" in several practice areas, including Insurance Law and Legal Malpractice Defense, by U.S. News - Best Lawyers® in 2014.
The rankings are based on a rigorous evaluation process that includes the collection of client and lawyer evaluations, peer review from leading attorneys in their field, and review of additional information provided by law firms as part of the formal submission process.
"We continually strive to be exceptional advocates for our clients and are very pleased to receive this special recognition," said Dennis A. Watson, President of Grogan Graffam.
About Grogan Graffam, P.C.
Grogan Graffam, P.C. is a mid-sized general practice law firm concentrating in litigation, professional liability and commercial law. Located in downtown Pittsburgh, the firm's practice area encompasses western and central Pennsylvania, eastern Ohio and West Virginia.
Grogan Graffam, P.C. is a member of the International Society of Primerus Law Firms.