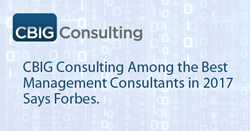 Helping our clients understand the best path for success and how to achieve it most effectively inevitably leads to more informed project development, faster deployments, and faster ROI.
Chicago, IL (PRWEB) May 16, 2017
Worldwide business intelligence organization CBIG Consulting was listed among other elite strategic management enterprises by Forbes Media in their research report, "America's Best Management Consulting Firms 2017." Forbes reporter Jeff Kauflin stated that Forbes collaborated with analytics firm Statista to compile this year's list, and for the first time included IT-centric companies that also possess proven business management portfolios on behalf of their clients.
CBIG president Todd Nash said the CBIG Consulting team has made significant investments in both recruiting strategic management talent and devising high-level strategic services that take advantage of CBIG's data science and business intelligence expertise. He mentioned that CBIG's Principals felt it was critical to add strategic advisory services to achieve comprehensive, project life-cycle capacity. "Over the last several years, our strategic management professionals, who all have executive-level backgrounds, have made remarkable contributions in developing more strategic-minded solutions that target specific client pain points. Having walked the walk, so to speak, our team leaders understand what our clients are experiencing, and are uniquely qualified to lead teams in building data solutions around these challenges," he stated.
Nash added that CBIG's business management component has evolved into the company's strongest selling point. He noted that strategic management services have become standard practice in most CBIG endeavors, particularly in more targeted projects relating to marketing and sales intelligence insights, as well as data monetization initiatives, explaining, "Helping our clients understand the best path for success and how to achieve it most effectively inevitably leads to more informed project development, faster deployments, and faster ROI."
About CBIG Consulting
CBIG Consulting is an international team of experts in Business Intelligence, Big Data Analytics, Data Warehousing, and Cloud-based Analytics platforms. Named a top BI and Big Data consulting firm by independent research organizations and publications, CBIG's management consultants, business analysts, data scientists, architects and engineers are seasoned professionals dedicated to the analytics space. CBIG works with global enterprises, mid-size businesses, and non-profit organizations in solving mission-critical reporting and analytical needs. CBIG is headquartered in the Chicago area and has additional offices in San Francisco, Boston, Denver, Austin, Raleigh, Irvine and Seattle in the U.S.; Sydney, Melbourne, Auckland and Singapore serving the Asia-Pacific region; and London serving the EMEA region. For more information, please visit http://www.cbigconsulting.com