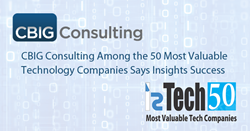 Chicago, IL (PRWEB) May 09, 2017
CBIG Consulting has been selected by Insights Success as one of the "50 Most Valuable Tech Companies" for 2017 for its innovative analytics solutions that help enterprises discover, develop and realize their full business potential. In its April 2017 Tech issue that includes a profile of CBIG Consulting, Insights Success noted the firm is continuing to carve out a leading role in advancing more proactive strategies that solve specific challenges and drive client businesses forward through Big Data and business intelligence initiatives.
In the piece, John Onder, Co-founder and Principal with CBIG Consulting, said, "Our mission stresses providing the full spectrum of services necessary to impact and improve our client's capacity to compete and thrive for long-term gains." These services include initial strategic planning and BI architecture design/development/implementations, cloud technology deployments, and ongoing service contracts, among others.
Looking ahead, CBIG is continuing its plans to further expand its presence geographically while also expanding its relationships with strategic technology partners. The firm is also developing a series of easy-to-deploy products and services that empower and enable end users to become more self-sufficient, thereby reducing overall program development and implementation costs.
About CBIG Consulting
CBIG Consulting is an international team of experts in Business Intelligence, Big Data Analytics, Data Warehousing, and Cloud-based Analytics platforms. Named a top BI and Big Data consulting firm by independent research organizations and publications, CBIG's management consultants, business analysts, data scientists, architects and engineers are seasoned professionals dedicated to the analytics space. CBIG works with global enterprises, mid-size businesses, and non-profit organizations in solving mission-critical reporting and analytical needs. CBIG is headquartered in the Chicago area and has additional offices in San Francisco, Boston, Denver, Austin, Raleigh, Irvine and Seattle in the U.S.; Sydney, Melbourne, Auckland and Singapore serving the Asia-Pacific region; and London serving the EMEA region. For more information, please visit http://www.cbigconsulting.com