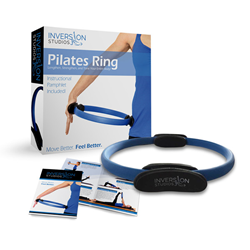 "The pilates method of body condition is complete coordination of body, mind and spirt"
Boulder, CO (PRWEB) May 06, 2015
Inversion Studios, a full-service training center in Boulder, Colo., specializes in yoga and Pilates classes, provides personalized individual instruction and now offers Web-based services, videos and products, starting with its new Pilates Ring magic circle.
Inversion Studios
In the effort of becoming leaner, stronger, more centered and graceful, Inversion Studios and its new Pilates Ring offer a fresh venue to healthy fitness through yoga and Pilates. With a beautiful location in Boulder, Colo., and an information-packed new website, Whitney Grafa, PMA-CPT, offers online instructional videos, physical studio classes, individualized instruction and a full line of products starting with the Pilates ring. Inversion Studios has something for everyone. Whether someone is considering a gentle but effective exercise regimen, looking to amp up and over a plateau or simply searching for something to make themselves look and feel better, Inversion Studios may be just what the trainer ordered.
Why Pilates?
Pilates has fast become one of the most popular exercise regimens because it offers benefits to so many different types of people. Numerous high-visibility celebrities and high-impact athletes are dedicated practitioners, but Pilates is for anyone. Because Pilates training exercises offer so many modifications, a workout can be as gentle or as rigorous as one wants. It is great for physical rehabilitation patients, back pain sufferers, overweight people unable to do other exercises, as well as seniors and women. No matter who the person is, Pilates offers three valuable benefits:

Strong core muscles that increase whole body strength.
Body awareness that improves coordination, grace and posture.
Control that encompasses mind and body.
Through six principles of centering, concentration, control, precision, breath and flow, Pilates regimens focus on increasing flexibility and joint mobility as well as strength to develop a more powerful and whole person.
Ringing in the Core Strength
Much like yoga, Pilates is a system of controlled, specific exercises that emphasize breathing while concentrating on the flow of movement. Since wellbeing depends upon the spine and its ability to support the entire body, all exercises incorporate spinal and pelvic alignment as key to form. Inversion Studios' Pilates ring is a perfect apparatus to make all of those things happen together. Made of high-tension stainless steel and durable, padded, no-slip rubber, the ring is a deceptively simple tool. It stabilizes muscle groups during exercises and keeps the focus on maintaining proper body alignment.
Its resistant flexibility allows one to increase the difficulty of exercises and is effective for abduction, adduction, progress and stretching exercises for any part of the body. By performing exercises correctly, one will get desired results faster and avoid injury setbacks. Easy to use, store or transport, the Pilates ring is a modest investment that will become an intrinsic necessity to everyone's wellbeing.
To learn more about Inversion Studios' Pliates ring visit them on Amazon.com.
About Inversion Studios
Ms. Grafa has founded her enterprise on her profound belief that Pilates should be accessible to "every body" so that students can feel safe and successful. Recognized for her commitment and expertise, she will be teaching at the Pilates Method Alliance (PMA) November conference in Denver, Colorado. To enroll in studio classes, view a training video, order a Pilates ring or simply learn more about Ms. Grafa and Inversion Studios, check out their website at http://www.Inversionpilates.com or like their Facebook page. If one is already convinced, Inversion Studios' Pilates ring is also available on Amazon.com.