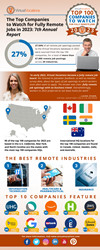 "We listened to jobseeker feedback, as well as member survey data, about the types of job openings to which workers most often want to apply. The answer was clear: fully remote job openings with no business travel." –Laura Spawn, CEO and co-founder of Virtual Vocations
TUCSON, Ariz. (PRWEB) January 04, 2023
Virtual Vocations' seventh annual top 100 companies for remote jobs list ranks businesses and organizations, headquartered in the United States and around the world, that regularly hire remote workers.
Located in states across the U.S., and in countries like Canada, Ireland, Sweden, India, and Australia, the employers who made Virtual Vocations' list of top 100 to watch throughout 2023 span 20 career categories, including information technology, healthcare and pharmaceutical, and insurance.
For the company's newest top 100 list, Virtual Vocations prioritized identifying employers with the most fully remote job openings published over the previous 12 months. Laura Spawn, Virtual Vocations CEO and co-founder, elaborated on the decision to focus the report on companies that frequently hire for 100% remote jobs:
"In early 2022, Virtual Vocations became a fully remote job board. We listened to jobseeker feedback, as well as member survey data, about the types of job openings to which workers most often want to apply. The answer was clear: fully remote job openings with no business travel."
By conducting extensive internal and market research, Virtual Vocations found that "Overwhelmingly, workers in 2022 preferred to not leave home for work," according to Spawn. The preference for fully virtual employment arose from three key factors reported by employees: money and time saved by not commuting, increased productivity while not working from an onsite office, and improved health and well-being as work-at-home professionals.
Spawn also shared that, while the 2022 switch to becoming a fully remote job board meant an overall decrease in the number of remote job postings added to the Virtual Vocations database during the year, the quality of remote job postings has increased substantially. "Jobseekers searching for remote jobs in the new year should start with our list of the 'Top 100 Companies to Watch for Fully Remote Jobs in 2023,'" said Spawn. She continued, "These companies value the freedom and flexibility of remote work and are committed to providing workers with career options that further their goals and enhance the lifestyle they want to achieve."
Ranked by the number of remote jobs published on Virtual Vocations' jobs database from January through December 2022, Virtual Vocations' top 10 employers for remote jobseekers to watch for remote hiring in 2023 are as follows:
1. UnitedHealth Group
2. VocoVision, Inc.
3. Amazon
4. Humana Inc.
5. Amazon Web Services, Inc.
6. Liberty Mutual Insurance Company
7. Google
8. U.S. Bank
9. Elevance Health
10. Edward Jones
Together, these 10 employers accounted for 43.71% of the total remote job openings sourced from the top 100 companies to watch in 2023. Overall, more than a quarter (27.04%) of the hundreds of thousands of remote job openings posted to the Virtual Vocations job board throughout all of 2022 are attributable to the top 100 companies combined.
Individually, each of the top 10 companies shared more than 1,000 fully remote job postings during the year. However, VocoVision, Inc. and UnitedHealth Group were clear standouts among the ranking. VocoVision, a children's teletherapy services provider, which was awarded first-place honors on Virtual Vocations' 2021 companies list, posted more than 6,800 fully remote jobs in 2022. Meanwhile, UHG, an American multinational managed healthcare and insurance provider, and ranked first for the second consecutive year, boasted an impressive 10,375 remote job openings for 2022.
To learn more about Virtual Vocations and read the full report on the Top Companies to Watch for Remote Jobs in 2023, visit: https://www.virtualvocations.com/blog/annual-statistical-remote-work-reports/top-100-companies-to-watch-for-fully-remote-jobs-in-2023/
ABOUT VIRTUAL VOCATIONS
Founded in 2007 by CEO Laura Spawn and her brother, CTO Adam Stevenson, Virtual Vocations is a small company with a big mission: to connect jobseekers with legitimate remote job openings. To date, Virtual Vocations has helped more than four million jobseekers in their quests for flexible, remote work.
In addition to providing a database of current, hand-screened, and 100% remote job openings, Virtual Vocations offers jobseekers a number of tools to aid in their job searches, including exclusive career courses, downloadable jobseeker content, and career coaching and resume writing services. Virtual Vocations also releases several data-driven reports each year on current trends in remote work.
Virtual Vocations, Inc. is a private, family-owned, and 100% virtual company incorporated in Tucson, Arizona.
PRESS INQUIRIES
Kimberly Back
kim(at)virtualvocations(dot)com
VirtualVocations.com