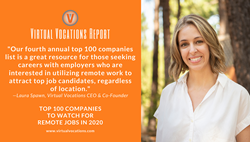 "Our fourth annual top 100 companies list is a great resource for those seeking careers with employers who are interested in utilizing remote work to attract top job candidates, regardless of location." —Laura Spawn, CEO and co-founder of Virtual Vocations
TUSCON, Ariz. (PRWEB) January 14, 2020
The web's largest hand-screened, all-remote job board has named the top 100 remote-friendly employers of 2020.
Founded in 2007 by CEO Laura Spawn and CTO Adam Stevenson, Virtual Vocations connects jobseekers with legitimate remote job openings from tens of thousands of expert-vetted employers—but the companies highlighted in its list of top 100 employers of 2020 rose to the top of the pack, posting the most remote jobs to Virtual Vocations' searchable database over the last 12 months.
According to Spawn, jobseekers can use this data to find employers who prioritize quality over location.
"Each year, remote work continues to grow in popularity as more and more jobseekers see it as a standard benefit," Spawn said. "Our fourth annual top 100 companies list is a great resource for those seeking careers with employers who are interested in utilizing remote work to attract top job candidates, regardless of location."
Spanning nearly four dozen industries, including healthcare, education, publishing, and translation, the companies on this year's top 100 list include remote-friendly employers like VocoVision, UnitedHealth Group, and CyraCom, LLC. For many of these companies, this isn't the first year they've made Virtual Vocations' top 100 list—and they aren't showing any signs of slowing down.
"2019 brought with it huge growth in remote job opportunities," Spawn said. "Virtual Vocations saw a 26% increase in the number of remote jobs vetted and posted to our database in 2019, and the number of employers partnering directly with Virtual Vocations to fill their remote positions drastically increased—by 60%—over 2018."
Combined, the 100 employers highlighted this New Year listed more than 57,000 remote positions in 2019—but when it comes to Virtual Vocations' massive jobs database, that's not even the tip of the iceberg. In 2019, Virtual Vocations listed more than 325,000 remote jobs, and with the help of these 100 employers, the company has set its sights even higher in 2020.
The top 15 companies to watch for remote jobs in 2020, according to Virtual Vocations, are as follows:
1. CyraCom, LLC
2. VocoVision
3. UnitedHealth Group
4. ProCare Therapy
5. K12 Inc.
6. Oracle
7. Nigel Frank International Limited
8. Sunbelt Staffing
9. Kelly Services Inc.
10. ADTRAV Travel Management
11. Sykes Enterprises, Incorporated
12. Dell
13. PRA Health Sciences
14. Connections Academy
15. Randstad
To learn more or to see Virtual Vocations' full list of top 100 remote companies to watch in 2020, view the report online at https://www.virtualvocations.com/blog/telecommuting-news/top-100-companies-to-watch-for-remote-jobs-in-2020/ or click here to download a summary.
ABOUT VIRTUAL VOCATIONS
Founded in 2007 by CEO Laura Spawn and her brother, CTO Adam Stevenson, Virtual Vocations is a small company with a big mission: to connect jobseekers with legitimate remote job openings. To date, Virtual Vocations has helped more than two million jobseekers in their quests for flexible, remote work.
In addition to providing a database that houses more than 20,000 current, hand-screened remote job openings at any given time, Virtual Vocations offers jobseekers a number of tools to aid in their job searches, including exclusive e-courses and downloadable content, and resumé writing services. Virtual Vocations also releases several data-driven reports each year on current trends in remote work.
Virtual Vocations, Inc. is a private, family-owned, and 100% virtual company incorporated in Tucson, Arizona.
PRESS INQUIRIES
Michelle Rawlings
michelle(at)virtualvocations(dot)com
1 (800) 379-5092 ext. 703
VirtualVocations.com