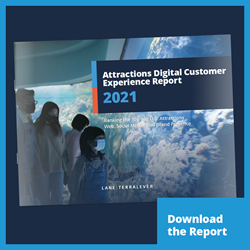 PHOENIX (PRWEB) April 05, 2021
AdAge-honored marketing agency, LaneTerralever, ranks 100 of the top U.S. attractions in their "2021 Attractions Digital Customer Experience Report" with the San Diego Zoo, Great Wolf Lodge, iFLY Indoor Skydiving and The Metropolitan Museum of Art leading the rankings.
The release of this report coincides with recent vaccination rollouts and the lifting of many travel restrictions. After a year of social distancing, many U.S. families are looking to experience pandemic-shuttered attractions including zoos and aquariums, amusement and theme parks, family entertainment centers and museums. To capture this upcoming share of wallet, attractions are looking at ways to improve their marketing efforts.
LaneTerralever's "2021 Attractions Digital Customer Experience Report'' uses a standardized set of criteria across critical elements of the digital customer experience including website, social media and overall brand. The resulting report provides a benchmark ranking that allows attractions to see how they compare to industry peers and identify areas for improvement.
An attraction's website is one of the first touch points for a potential guest, serving as experience number one. It also serves as a main source for information and ticket purchases. For the purpose of this report, assessments were performed on mobile and desktop design, website performance, ADA compliance, search engine optimization, safety callouts and overall experience. In regards to web experience, the results showed 75% of attractions scored below satisfactory on mobile and 68% scored below satisfactory on desktop.
With customer service increasingly more social in nature, social media was weighted highest across the three digital customer experience areas. The purpose of an attraction's social media presence is to create authentic touchpoints for their visitors to ensure attendance consideration. High marks were given for attractions that included the following: value-focused content, a diverse social media channel mix, high engagement metrics, thoughtful engagement strategies, affinity building and effective use of influencers. The findings uncovered 29% of attractions are effectively using influencers to grow their reach, while 64% had zero noticeable partnerships in place. In addition, only 44% of attractions are actively engaging their audiences on social media.
To ensure a high customer lifetime value versus one-time visits, it's important to look at attractions as a brand and not just an entertainment destination. Of timely importance, the report assessed how an attraction's COVID-19-related communications aligned with the brand and the prevalence of this messaging throughout key digital customer touch points. Other areas of consideration were perceived brand value, customer sentiment, differentiated brand positioning, message clarity and emphasis on customer loyalty. The report showed 42% of the attractions assessed weren't effectively communicating the benefits of their loyalty or membership program and 20% had no membership program in place – providing opportunities for increased long term brand engagement.
For more information and access to the full report, visit laneterralever.com/industries/entertainment-attractions-marketing-agency/attractions-marketing-digital-customer-experience-report
ABOUT LANETERRALEVER
Recognized as one of the region's largest entertainment and attractions marketing agencies, Phoenix-based LaneTerralever provides research-based insights to create award-winning customer experiences that drive ticket sales, loyalty and lifetime value – all while maintaining a client satisfaction Net Promoter Score of 82, compared to an industry average of 15.
LaneTerralever provides brand strategy, user experience design, website development, content marketing, social media, influencer marketing, media strategy, creative, video production and public relations services for clients such as Blue Man Group, Red Bull Media House, The Phoenix Zoo, Heard Museum, Desert Botanical Garden, Arizona Boardwalk, USA BMX, Phoenix Suns and Charles Schwab Championship.