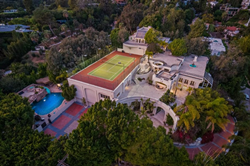 Where Real Estate Is Never Boring!
POMPANO BEACH, Fla. (PRWEB) April 30, 2020
"April's Top 10 U.S. Real Estate News"
"Drake's 50,000-Square-Foot Toronto Home"
Almost as big as the White House, Drake's new 50,000-square-foot Toronto home includes a 44-foot-high ceiling great room, 3,200-square-foot master suite, a bathtub carved from a slab of black marble, an elaborate recording studio, and extensive chandeliers, limestone, marble and bronze.
"Selena Gomez Buys Tom Petty Home"
Selena Gomez has purchased Tom Petty's former Encino, California home for $4.9 million. The deceased rock star had the home built in 1989 with six bedrooms, 8 baths, 11,483 square feet and Tom's recording studio.
"Beckhams Move Into Miami"
David and Victoria Beckham have purchased a full-floor penthouse in the new Miami luxury condo building at One Thousand Museum. Designed by Zaha Hadid, who died in 2016, the building features extensive security including a helipad. Beckham is president of the new Inter Miami CF soccer team.
"L.A. Mansion Prince Painted Purple"
It may have been the most infamous house-painting job in Los Angeles history when mega-rocker-star Prince painted NBA-star Carlos Boozer's Beverly Hills home in purple stripes. New to the market, the home is just as elegant as when Prince and Elizabeth Taylor, who lived there decades before, is now for sale priced at $29.995 million.
"Mindy Kaling Grabs Frank Sinatra Home"
A Malibu beach home that was built for Frank and Barbara Sinatra in 1992 recently sold to Mindy Kaling for $9.95 million. "The Office" star's new home includes seven bedrooms with 5,824 square feet and a hair salon.
"Jennifer Lawrence Sells Her Penthouse"
Jennifer Lawrence has finally sold her 4,073-square-foot New York penthouse that she put on the market last summer at $15.45 million. The apartment comes with three bedrooms, five baths, city views and a stunning two-story terrace. Jennifer lowered her original asking price down to $12 million, no word yet on the final sale price.
"Pharrell Williams Returns To South Florida"
Pharrell Williams was a longtime South Florida resident until he sold his Miami condo penthouse in 2016 for $9.25 million and moved to L.A. He's now back in Florida after buying a $30 million, 7,466-square-foot home on over three acres in Coral Gables with a pool, boat house, library, koi pond and summer kitchen. Pharrell reportedly bought the suburban Miami home to hunker down during the coronavirus pandemic. Williams recently listed his Beverly Hills home for sale at $16.95 million.
"Michelle Pfeiffer Buys Another Home"
Just a few weeks after Michelle Pfeiffer and her husband, David E. Kelley, sold their Silicon Valley home for $22 million, the long-married couple bought another California home for $22.5 million. Their new six-bedroom home in Pacific Palisades is near the Riviera Country Club. They own a couple more California homes including one additional Pacific Palisades home.
"Kaley Cuoco Sells LA Home"
Kaley Cuoco put her 7,977-square-foot Los Angeles home with six ensuite bedrooms and a pool on the market last year at $6.9 million, which just sold for $3.95 million. Kaley and her husband, equestrian Karl Cook, just built their new dream home in LA's Hidden Hills neighborhood.
"Adam Lambert's Sunset Strip Home"
The home that Adam Lambert bought in 2009 soon after he shot to fame as a performer on American Idol is for sale at $3.35 million. The Sunset Strip home features city-night-light views, a designer kitchen, a master suite with the city views, and a master spa with private terrace.
For more celebrity homes and real estate news, visit TopTenRealEstateDeals.com.