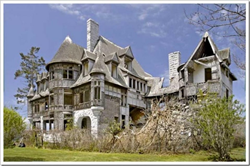 Where Real Estate Is Never Boring!
POMPANO BEACH, Fla. (PRWEB) October 29, 2020
"Top 10 Halloween Haunted Homes"
Looking for a nice haunted home to buy? Something that is a bit different than the two-story Colonial with the white picket fence? The Mid-century modern with floor-to-ceiling windows or the English Tudor like your parents had? How about Buffalo Bill's home from "The Silence of the Lambs," now on the market with a price that has been cut to the bone at just $298,500? What about the Massachusetts house where Lizzie Borden moved to in 1892 after she was found not guilty of chopping up her father and stepmother to death? The home where Lizzie lived a life of luxury until her own death in 1927 is now for sale at $899,000.
For anyone looking for a lot of space, how about an entire Colorado ghost town for $2 million? Or a New York gilded-age mansion for $495,000 that was once one of the most beautiful homes in the United States, but now looks like something from a Freddy Krueger nightmare? Also currently on the market, what might be the largest ghost mansion in the world with 110 rooms and ties to the Titanic disaster - now reduced from $20 million to $16.5 million?
Could it be evil spirits in the basement, a maniac in the attic, or something even worse? Could that dream home become a nightmare? No one ever said buying a home was easy. What difference could a few ghosts make?
Visit TopTenRealEstateDeals.com for more real estate news, spectacular homes and Celebrity Home Video Tours.